Camping in Lofoten gives you the freedom to move and sleep in different places over a longer period. This really provides a special kind of luxury. A luxury that is enhanced by sleeping outside – you will not get closer to nature. Here you will find an overview of campsites in Lofoten
Rent a motorhome when you visit Lofoten
I had an amazing totally brilliant camper van trip with we camp Norway. The van was so spacious and cosy. It drove really well . I traveled from Oslo to Lofoten and all Around the islands. For 10 days. I'll remember this trip for ever. Highly recommend. Thanks guys!

Victoria Jensen – (Google review)
Campervans are equipped for freeacamping in all seasons and are easier to manouver, especially when it comes to parking
The Campervans are designed with cozy wooden interior
Locations in both the north and south of Norway (Bjerkvik is the spot closest to Lofoten)
WeCamp includes toll roads, bed linen, camping furniture, a bbq grill, and the portable toilet in their price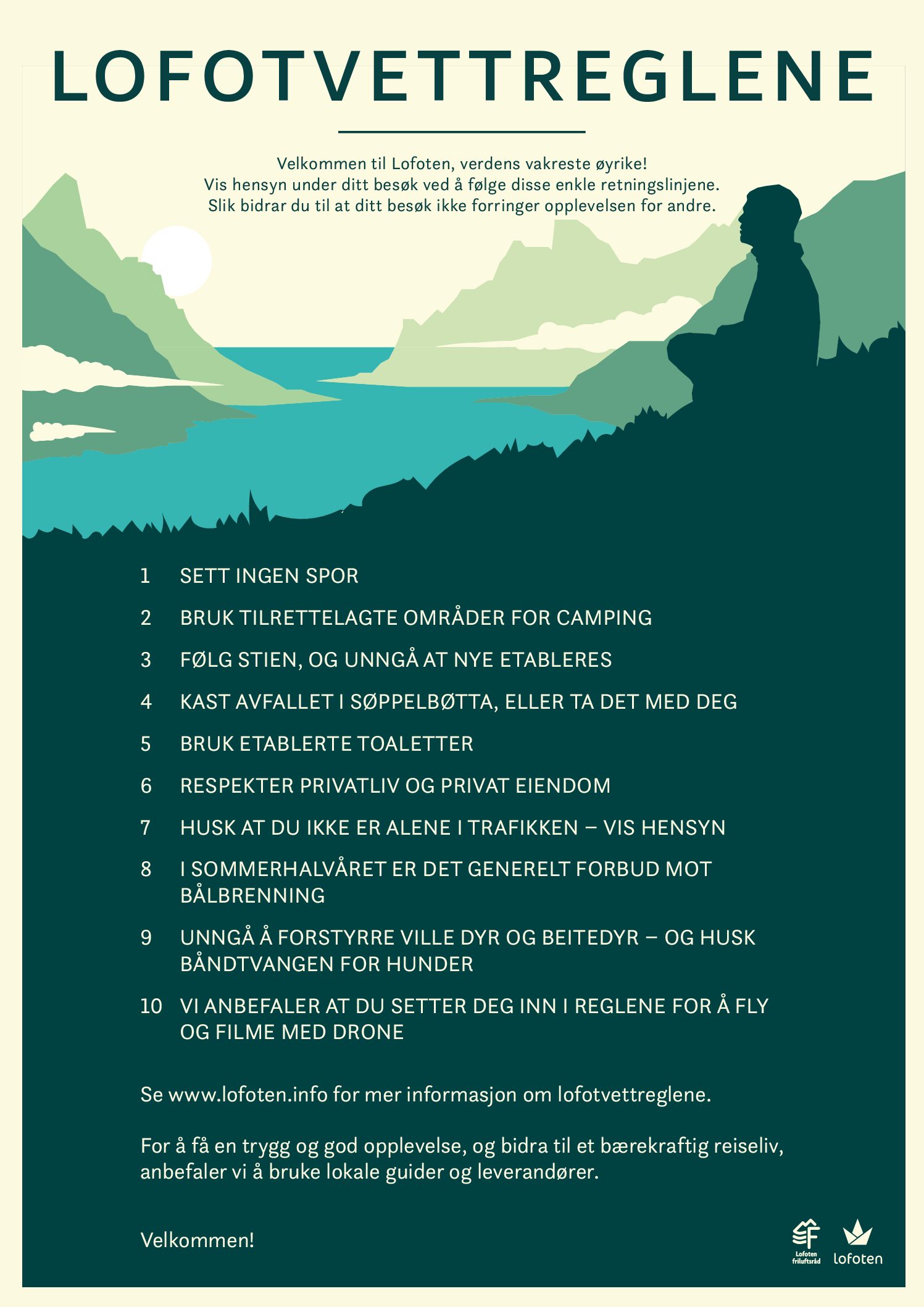 The common law (referred to in Norwegian as "Allemannsretten") applies within Lofotodden National Park. Ordinary outdoor activities like berry and mushroom gathering, hunting and fishing, can be practiced outside the park. You can use wood for bonfires, but old/dying trees must be left untouched as these are important habitats for insects, birds, lichen, and fungi. Also, remember that there is a general ban on bonfires from 15 April – 15 September.
Organized tours and events may require special permission from the administrative authority. The organizer must contact the administration well before the planned trip to get details clarified.
Lofotodden is protected against noise. The use of drones, model aircraft, or the like is prohibited. Motor transport on land, lakes, and in the air below 300 meters from the ground is not allowed.
Leave no trace! Rubbish must not be left in nature, regardless of whether the area is protected or not. Rubbish must be braught with you and thrown into a nearby bin. Toilet waste must be dealth with cleanly (pack it in a plastic bag and bring it with you – out from the nature) so that it is not a nuisance to others. Human waste is not part of natures own eco-system for decomposition.
Was this helpful?
Thank you for your feedback!
Thank you for your feedback!
We are reading all feedback, but unfortunately we can not respond.