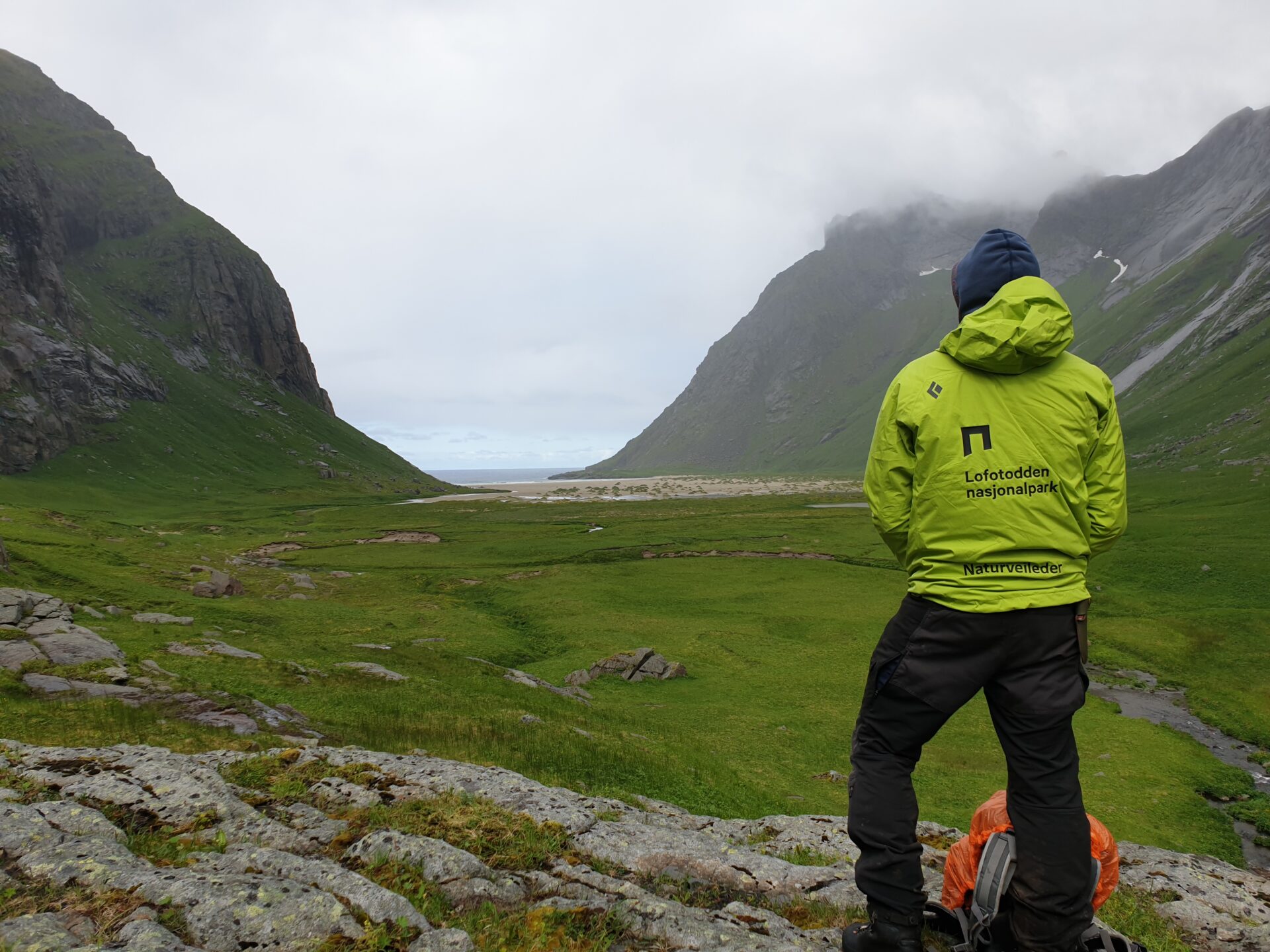 Lofotodden National Park was officially opened on June 9, 2019 and is Norway's 40th and newest national park. The National Park is located on Moskenes Island in the southwestern part of Lofoten and covers an area of 99 square kilometres, where 86 square kilometres are land area and 13 are marine area.

Lofotodden National Park
A National Park is an area protected because of its natural values. Lofotodden has landscape types and ecosystems that cannot be found in other protected areas in Norway. The unique landscape is characterized by narrow and towering peaks, surrounded by open sea and deep fjords. The purpose of protecting these environments is to conserve a large contiguous area containing distinctive biodiversity, with emphasis on species, ecosystems, geology and lack of infrastructural development. 
The Norwegian Enviroment Agency has a webiste with all of Norway's national parks, which can be found here.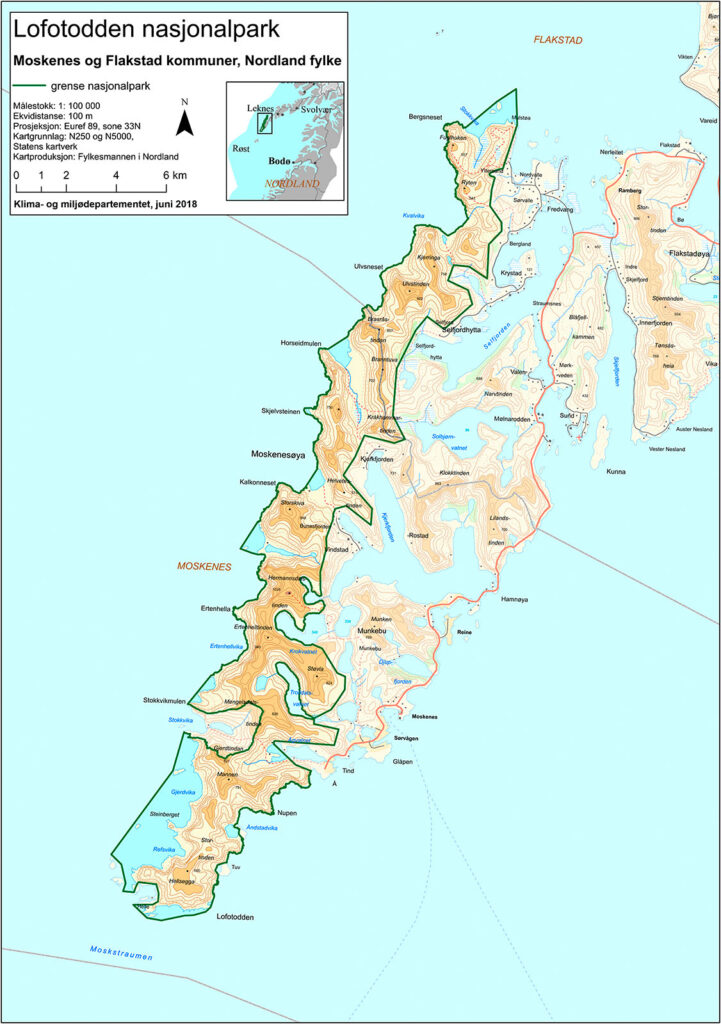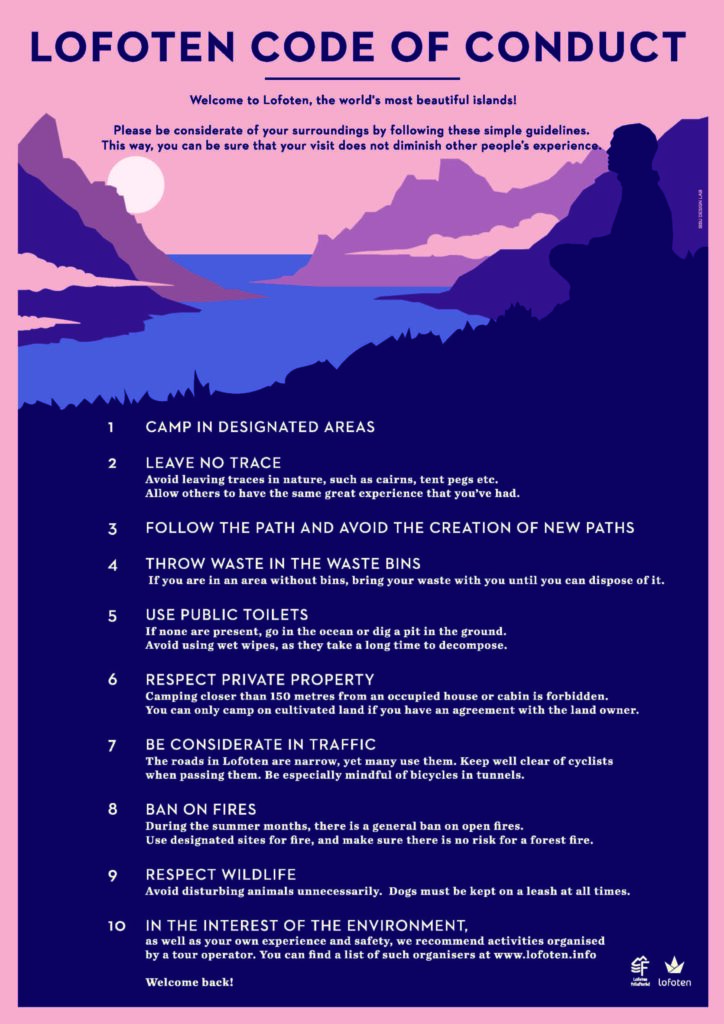 Regulations/What am I allowed to do?
The Norwegian Right of Public Access to the Wilderness, or "Right to Roam", still applies within the National Park. Traditional outdoor activities, like hiking, camping, hunting, fishing, and gathering can be performed as usual. Respect the general bonfire ban in Norway from 15 April to 15 September. Old or dying trees are an important part of the ecosystem for many species of insects, birds, lichen and fungi, and should not be used for bonfires. Remember that there is a general ban on fires in the period between the 15th of April to the 15th of September.
Companies/persons organizing guided trips or other events within Lofotodden National Park are required to contact the authorities well in advance of the planned event. Permission from the authorities is needed for some events and activities which may cause harm to the environment.
Flying with drones, and motor traffic by land, sea or in the air under 300 meters is not allowed in the National Park.
Leave no trace! Bring your waste with you until you can dispose of it in a waste bin. Toilet waste should be handled so that there is no nuisance to the public
Administrative authority
The Lofotodden National Park Board is appointed as the administrative authority in the national park. A National Park Manager is employed full-time to oversee the daily management of the park.
National Park Manager Ole-Jakob Kvalshaug:

Phone: 952 69 263/ 73 53 16 00
E-mail: oljkv@fylkesmannen.no
Mail: Fylkesmannen i Nordland, Postboks 1405, 8002 Bodø
Visiting Address: Rådhuset, Reineveien 67, 8390 Reine
Was this helpful?
Thank you for your feedback!
Thank you for your feedback!
We are reading all feedback, but unfortunately we can not respond.