Tourist map of Lofoten – overview of where you can set up your tent
Everybody is welcome to Lofoten, and nobody should worry about where to find a campsite. There is plenty of space for everybody to set up a tent.
Tourist map of Lofoten – Outdoor regulations
In Lofoten, we have developed outdoor regulations for all six municipalities. This means that there are a few selected places (actually only 3 per mile in all of Lofoten!) where you are not allowed to place a tent or a campervan. Having said that – there are many other places to choose from. You should aim for a place with facilities for camping, or one of Lofoten's many official campsites, or you could take a walk a bit further into the Lofoten nature to find a spot for your tent.
Places to pitch your tent
Get an overview of places to put up a tent on the tourist map, which has been drawn up by Lofoten Friluftsråd and Destination Lofoten.
We also recommend our official campsites with facilities that make your camping experience more convenient – and still surrounded by the beautiful Lofoten nature.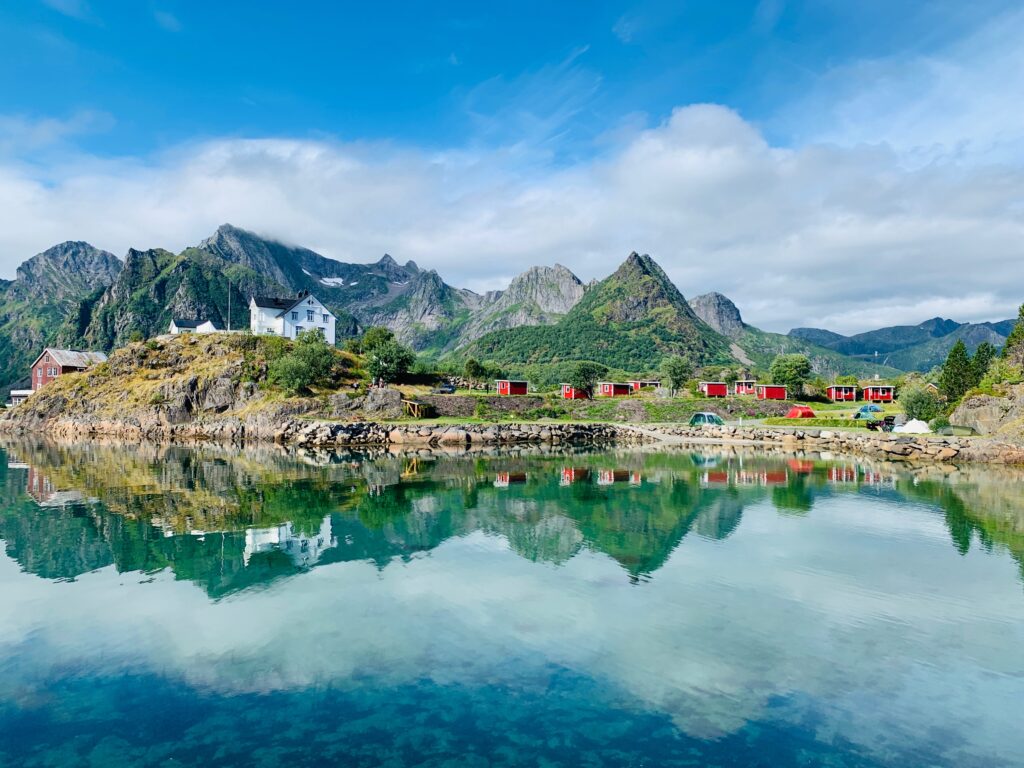 Nice place to live – nice place to visit
The outdoor regulations are developed to ensure Lofoten as a nice place to live, as well as a nice place to visit / travel to. We want to make it an enjoyable place for everybody who comes here. But we do not want to issue fines, because we hope you will follow our rules – in the best interest of both local residents and people who visit the islands.
Better outdoor experiences
We wish that our guests as well as the people who live here shall have the best possible outdoor experiences. At the Haukland beach, for instance, we have marked off a separate area for camping, which makes it easier for everybody to get from the parking to the beach. For visitors this makes no difference – you can still set up a tent at Haukland.
Reinebringen is another example. Since there is very little space on the top and very few areas suitable for camping, tenting could easily block access to the area and reduce the experience for the 45 000 people who visit Reinebringen every year. If nobody puts up a tent on the top, the experience will be so much better for everybody.
No prohibition as a replacement of facilitation
It has often been said that to facilitate is a better solution than to deny people the permission to camp. And some places this will be the best thing to do. But this is not always the case. We want to make it clear that the outdoor regulations have not been introduced as a replacement of facilitating. We are working to introduce more facilities such as toilets, parking, sign-posting etc.
Safety as an added effect
What about tenting in areas with a risk of rock falls? According to the Outdoor Activities Act § 15, safety issues are not a valid reason for denying people the permission to camp, because all activity in nature happens at your own risk. But for local people and the people who look after the area, and for the people who visit Lofoten, camping regulations in risky areas will have a very positive effect. This is in areas where information posters about the risk of rock falls used to be ignored by thousands of campers.
Dynamic regulations
The outdoor regulations are not a fixed document. There will be revisions and some areas will be excluded and new areas may be included. Area regulations and time restrictions may be changed. These regulations are a tool in the process of managing tourism in Lofoten, and changes may be made to adjust to developmental requirements. We will therefore update the outdoor maps from time to time.
Welcome to Lofoten
We wish everybody welcome to Lofoten with a guarantee that there will not be a problem to find a place to set up a tent.
Was this helpful?
Thank you for your feedback!
Thank you for your feedback!
We are reading all feedback, but unfortunately we can not respond.