Haukland Beach is located approximately in the middle of Lofoten and is among the most well-known beaches. Previously, the beach has been voted as Norway's best beach. It is situated about a 10-minute drive away from Leknes, on the north side of Vestvågøy.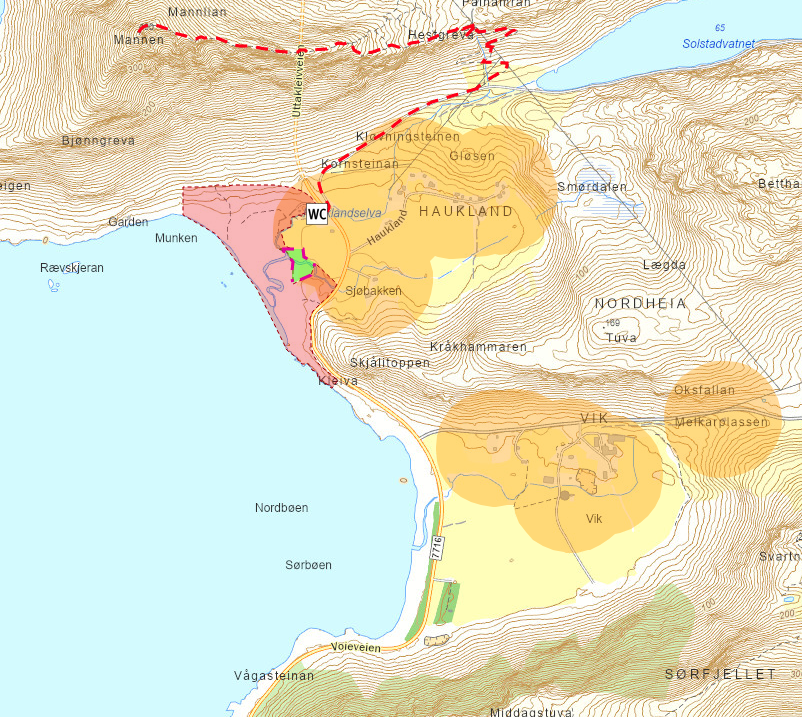 Practical Information
Haukland Beach is a state-protected outdoor area. Here, you can easily park your car right by the beach, as there is a parking lot with upper and lower levels, which have a height restriction. Parking is mostly free, but visitors are encouraged to contribute through a voluntary payment system. The funds are used to preserve and maintain the area for the enjoyment of all visitors.
At the beach, you will also find the Haukland Beach Cafe (open from 11:00 to 17:00, June to September), toilets (NOK 20), waste disposal stations, various activity options, and a camping area. Camping is not allowed and is defined as setting up larger tents or placing a camper van/caravan. However, it is permitted to pitch smaller hiking tents for shorter periods.
Photo explanation (full map here):
Red: Not allowed to tent
Green: Tent camping is allowed for up to 2 nights
Orange: You can pitch a tent, but follows the Outdoor Recreation Act (friluftsloven)
Landslide danger: Beneath the mountain "Mannen," there is a grassy area that includes parts of the lower parking lot. This area falls within a zone that is at risk of landslides. A sign has been erected in this area to inform visitors about the danger.
Development in the area (2023): Various construction activities are taking place in the area in anticipation of a new and modern service building with an expanded parking area. You can read more about the plans for the service building here.
A fantastic cultural landscape
In the Uttakleiv/Haukland/Vik area, the grazing animals work hard for both residents and tourists. This region is characterized by a limestone-rich soil, which provides an excellent natural grazing pasture where the animals thrive. Their efforts ensure the preservation of this natural habitat, and on the mountainsides, the grazing animals play a crucial role in preventing overgrowth of the grass-covered slopes.
The farm Haukland, which has given its name to the beach, has been written in various ways throughout history: Hawkland, Haukland, Huckland, Huchland, Hochland, Nedrehougland, and Øwherhougland. According to "Rygh," the name partly derives from the bird name Haukr and the river name Hauka. The farm is situated in a sheltered location, with mountains on three sides providing protection from wind and weather. The fertile soil ensures abundant harvests year after year. (Source: Eldar S. Andersen, Uttakleiv)
In the area around Haukland Beach, you will find beautiful hiking trails leading up to both Mannen and Himmeltinden. Not far away to the northwest lies Uttakleiv, and to the south, you have Offersøykammen, both of which are fantastic locations on the outer side of Vestvågøy.