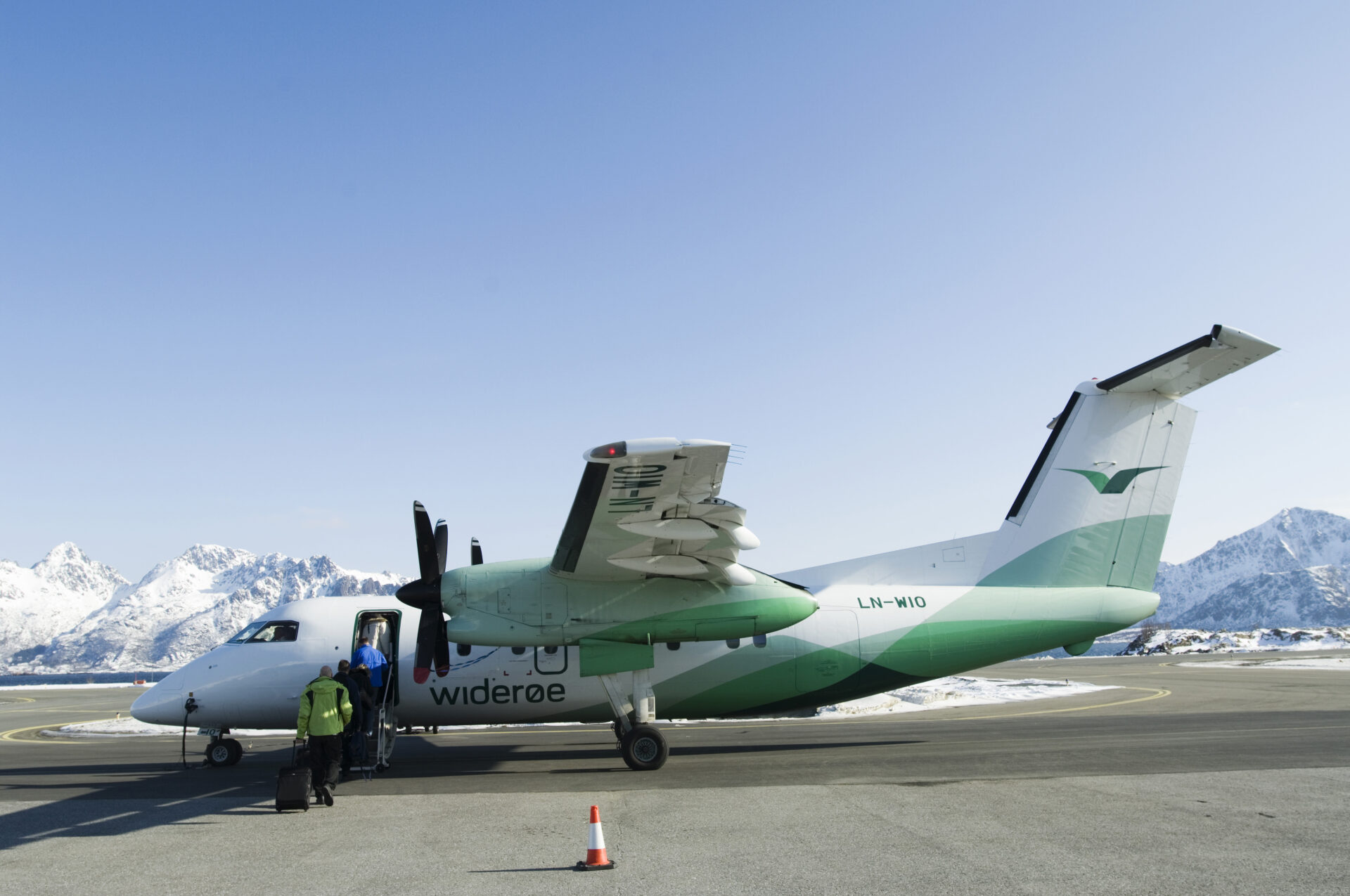 Fly to Lofoten
Lofoten has 3 airports and Norway's only commercial helicopter route. In addition, you can fly to Evenes which has an airport bus express to Lofoten and to Bodø which has many routes to Lofoten. Here you will find an overview of the best ways to fly to Lofoten.
Possibilities with Airplanes
Most visitors to Northern Norway arrive by air. There are frequent flights and owing to competition you can find good deals if you plan well ahead.
Harstad / Narvik Lufthavn (EVE)
Nå finnes det en flybussekspress fra Evenes til Lofoten. Flere og flere velger derfor å fly Harstad/Narvik lufthavn (EVE), som ligger 170 km fra Svolvær. Flybussen gir en enkel og værsikker inngang til Lofoten. Dette er ofte det rimeligste alternativet for å fly til Lofoten. Widerøe samarbeider med flere flyselskaper som SAS, KLM, Air France og Finnair som dermed tilbyr gjennomgående billetter fra hele verden.
Widerøe
Widerøe offers direct flights from Oslo airport Gardermoen to Lofoten. Widerøe also offers several flights daily from Bodø (BOO) and Tromsø to Svolvær (SVJ) and Leknes (LKN). Widerøe have flights between Bodø and Røst (RET), they also have flights between Røst and Svolvær. For more information and to buy tickets, visit www.wideroe.no.
SAS + Widerøe offer transfer options
SAS offers direct flights from Norway's international airport, Oslo Gardermoen (OSL), to Bodø (BOO) and Tromsø. From Bodø you may continue with Widerøe to Svolvær (SVJ) and Leknes (LKN). From Tromsø you can also fly to Leknes and you may also fly from Bodø to Røst (RET). You can buy one connecting ticket for the entire journey on either www.sas.no or www.wideroe.no.
You may also choose between several daily direct flights from Oslo Gardermoen to Harstad/Narvik Airport Evenes (EVE), which is located 170 km from Svolvær. Widerøe is cooperating with SAS, KLM, Air France and Finnar, you can buy a connecting ticket starting from virtually anywhere worldwide.
Norwegian
The low-cost airline Norwegian, www.norwegian.no, offers direct daily flights from Oslo Gardermoen (OSL) to Bodø (BOO) and Harstad/Narvik Airport Evenes (EVE) year-round. In summertime, Norwegian have direct flights from Oslo to Andøya. Norwegian offers connecting tickets from many European cities. You can buy a combination trip with Norwegian and Widerøe`s flights to and from Lofoten.
Flyr
Flyr is a new low-cost airline that have routes from Oslo to destinations in Norway and Europe. You can travel to Bodø or Harstad / Narvik Airport to continue to Lofoten.
Helicopter to Værøy
To Værøy (VRY) you take a helicopter in scheduled traffic, this is a fantastic way to travel to Værøy. Order at www.lufttransport.no If you wish to rent a smaller helicopter in Lofoten for various assignments, contact Heliteam.
Flight tips
The competition is tough, so check the airlines' websites for cheap tickets. Summer tickets, winter tickets etc. are posted. The sooner you book, the greater the chance you have of getting something reasonable.
Fly from abroad
If you travel from outside Norway to Northern Norway, you usually have to visit Oslo. Weekly, there are around 250 departures from Oslo Gardermoen (OSL) to Northern Norway, and Oslo has direct flights to around 100 cities abroad, so this often goes fast and smoothly.
There is a few direct flights from major cities in Europe to Tromsø. London, Zurich, Frankfurt, Munich, Stockholm and Copenhagen. More information here.
Airports in the Oslo area.
Note that there are several airports in the Oslo area. Almost all flights to Northern Norway go from Oslo Gardermoen (OSL). However, some low cost airlines operate flights from Sandefjord Airport Torp (TRF) located 167 km south of Oslo Airport Gardermoen. Check this out before ordering cheap tickets!
Be aware of that aviation is constantly changing. Therefore, look at this information as a guidance.

Editorrial staff, visitlofoten.com
Come to Lofoten by Airplane
Was this helpful?
Thank you for your feedback!
Thank you for your feedback!
We are reading all feedback, but unfortunately we can not respond.