Top 10 places to see the midnight sun in Lofoten
If you happen to be near any of these places, you should be able to experience the midnight sun when it is at the most beautiful. Even if it is not the time of the midnight sun when you visit Lofoten, you can still experience the light summer nights and beautiful sun sets. The dates may vary by one day from year to year.
1. Laukvik
The small fishing village Laukvik is situated 35 km north of Svolvær in the Vågan municipality. Walk out on the pier or along the sea shore to get a good view over the ocean.
24th of May – 20th July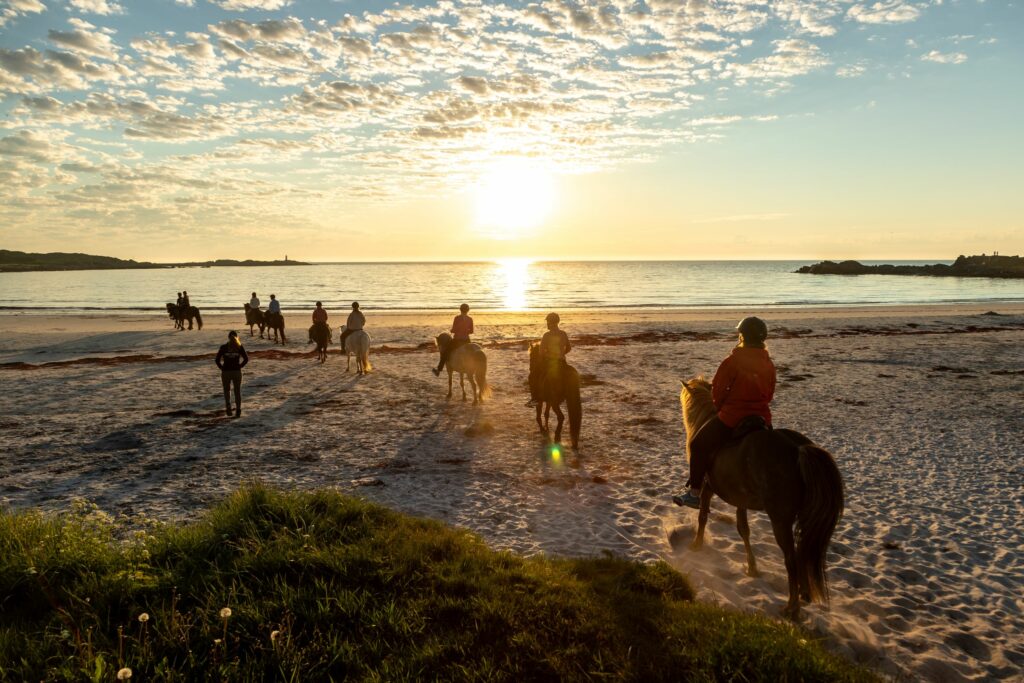 2. Hov at Gimsøy
The beautiful beaches at Hov are a popular place to enjoy the midnight sun. At Hov Farm, you can ride an Iceland horse on the beach and the surrounding cultivated landscape.
If you want to get higher up, you may want to climb on top of the mountain Hoven.
25 May – 19 July
3. Eggum
Drive to the end of the road at Eggum and enjoy the midnight sun by the fortress or by taking a walk along the trail in the protected nature reserve. Northern Explorer offers kayaking tours under the midnight sun among the beautiful skerries at the outer side of Lofoten.
25 May – 19 July
4. Unstad
The surfing village Unstad is surrounded by mountains on each side of the beach. Here you can enjoy the midnight sun and watch the surfers enjoying the waves. Try a stand up paddle board – SUP or try the waves on a surf board.
25 May – 19 July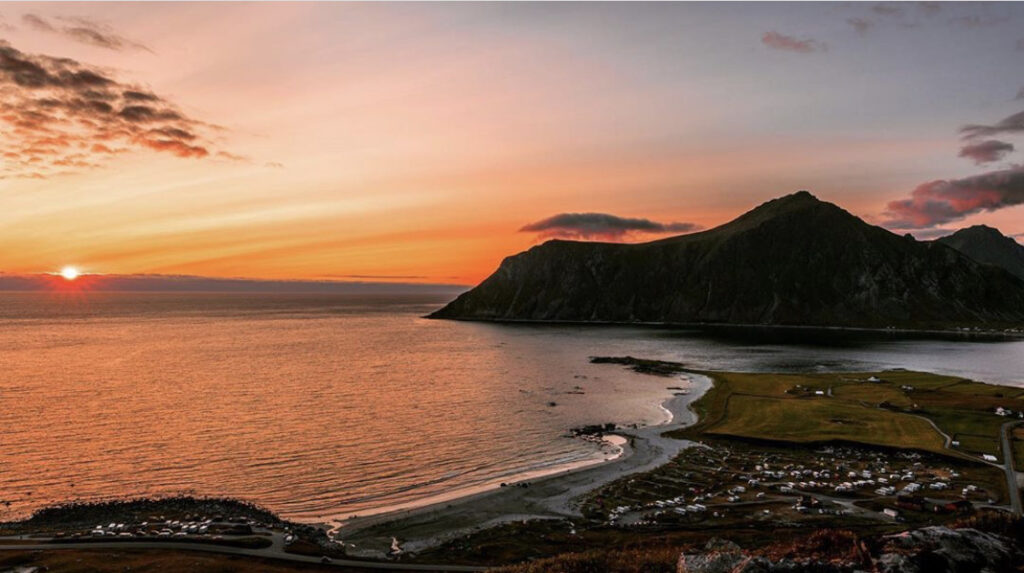 5. Skagsanden at Flakstad
Skagsanden beach is at the outer side of the islands. It offers good surfing conditions and there is a great beach bar with a panorama view. Lofoten Beach Camp offers surf courses and you surf board rentals.
26 May – 18 July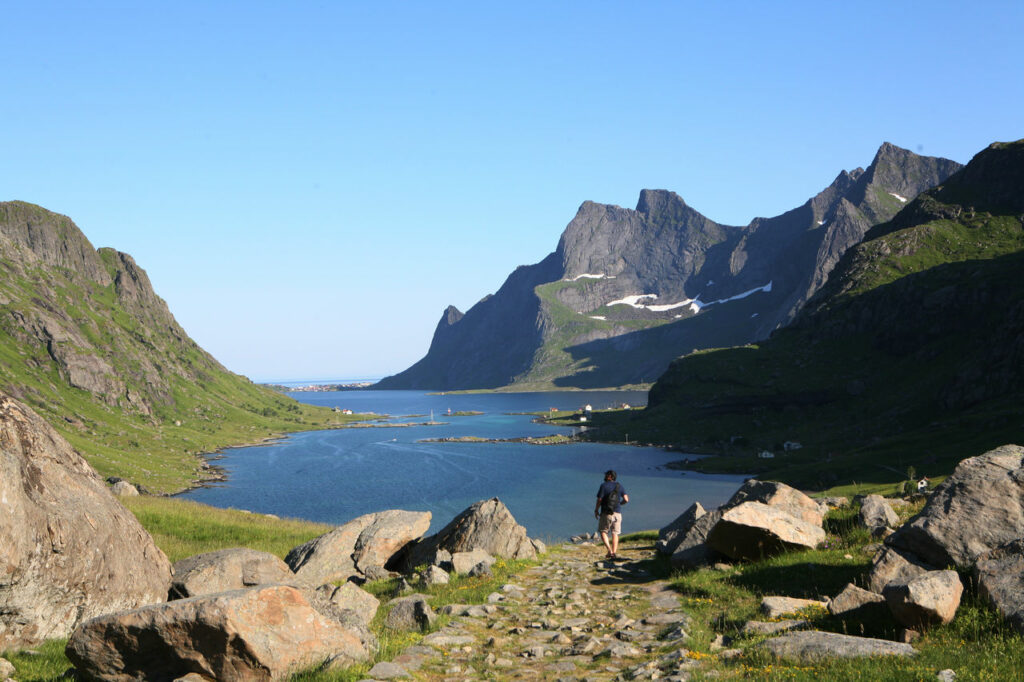 7. Bunesstranda
Take the small ferry from Reine to Vindstad and walk to the big Bunessanden beach, which is in the Lofotodden National Park.
28 May – 16 July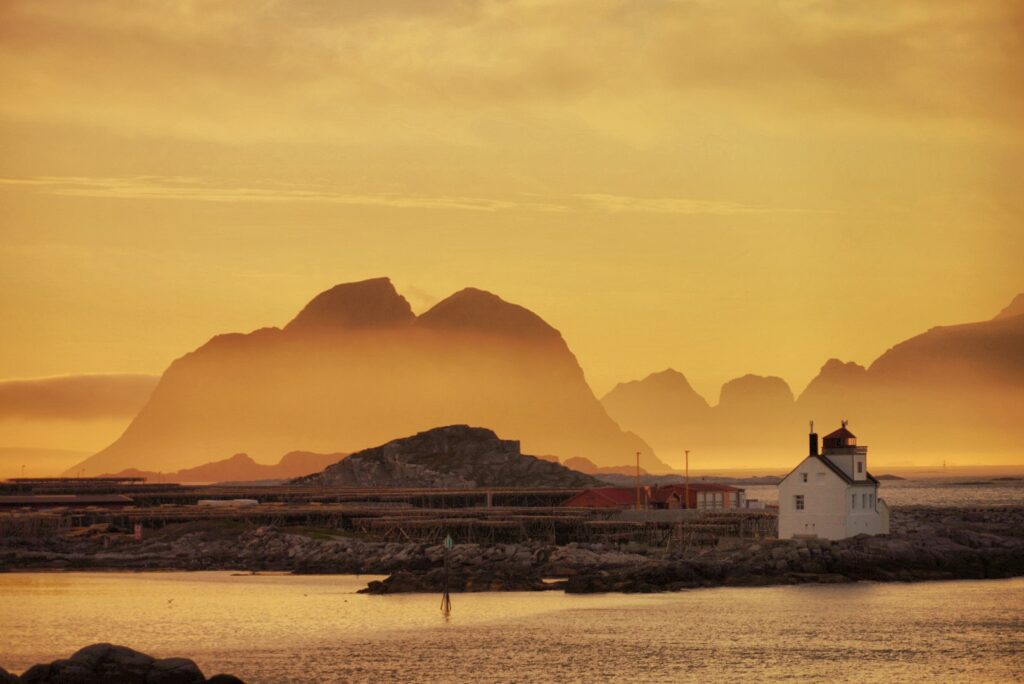 8. Værøy
At Værøy, you can enjoy the midnight sun from Nordlandshagen with a great view over the ocean or from the Håheia mountain
29 May – 15 July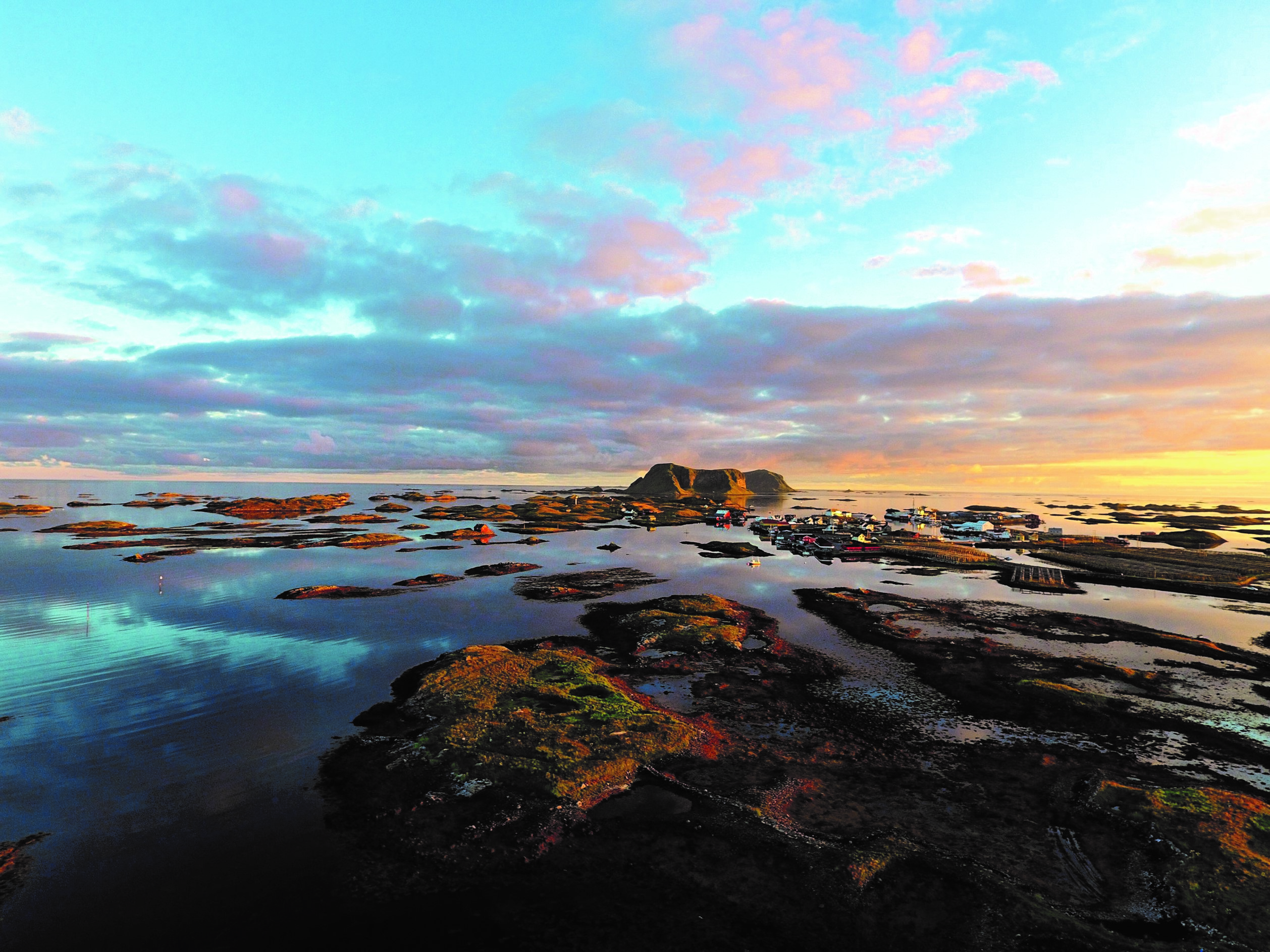 9. Røst
Furthest out in the open sea you find the island of Røst, which is known for its stockfish production and its rich birdlife. At Røst, you can see the midnight sun from almost everywhere with a panorama view, since the highest point is only 11 meters above sea level. Go to Åndhammarn and enjoy the sun from there
30 May – 14 July
10. Mountain tops
It is possible to see the midnight sun from most of the mountain tops in Lofoten. The best thing is that you do not have to worry about it getting dark, since it is the time of the midnight sun. When you return from your hike, the sun is often higher in the sky than it was when you started. Join a guided midnight sun hike to Vestvågøy's highest mountain