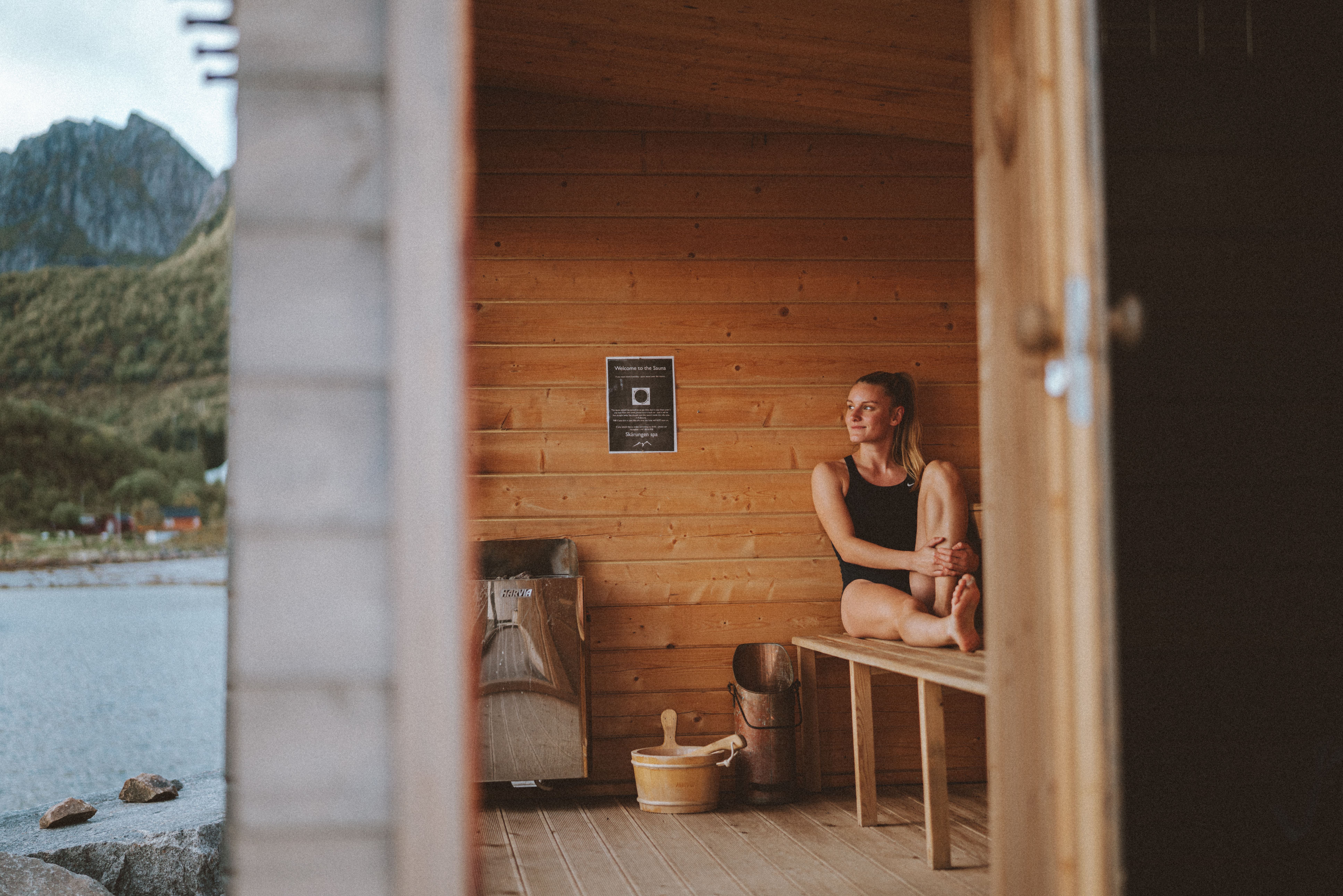 Sauna in Lofoten? Here are some of Norway's hottest saunas
Sauna in Lofoten is special because it gives you extraordinary access to one of the most spectacular combinations of mountains and sea in the world. In this place, you get close to the enormous powers of nature. Sit in the front «row», lean back, and enjoy the raw experience of a sauna in Lofoten. 
Sauna under the midnight sun
Hov Gård (Hov Horse Farm) is situated on the Gimsøy island on the northern side of Lofoten. This is where you find one of Lofoten's best placed saunas. Between a white sandy beach and the mountain Hoven, you can sit in a steaming hot sauna with a view over the big ocean, reaching as far as your eye can see. Hov Sauna has room for 12 people, and enjoying the midnight sun together with your closest and dearest is a very special experience. It is like time stays still and nothing else matters when you are enjoying this particular moment.
The best way to enjoy the northern lights is from a sauna
You may have had the sensational feeling of entering a hot sauna after a cold swim or a dip in the ocean. Very few have experienced this under a dark sky with the stars brightening up the fjord and the majestic mountain tops, for instance at Skårungen, with a view over to the iconic mountain Vågakallen.
Exceptional well-being in Lofoten
If you go to the Lofotspa at Nyvågar in Kabelvåg you will experience top of the range sauna and well-being. After an active day, you and your family can recharge your batteries at the same time as you enjoy the view over the majestic mountains and the Vestfjord.
Floating luxury – Sauna on water
Saunas in Lofoten are not only meant to be enjoyed on land. In Svolvær, you can experience floating luxury at Svinøya Rorbuer in their sauna on a floating jetty by the harbor. Soon, you can also enjoy the waves and the sea breeze at Thon Hotel Svolvær. They are planning to build an untraditional and stylish floating sauna in cooperation with Lyst Lofoten Badstueforening (Lofoten Sauna Association).
More inspiration below
Frequently asked questions about saunas in Lofoten
The perfect time for a Lofoten spa is all year round. Our favourite seasons are autumn and winter because the contrasts between the cold and heat are greater.
Lofoten spa is offered in various places, from Svolvær in the east to Reine in the west.
Children are welcome at most places, but we recommend checking in advance.
You can see the Northern Lights in Lofoten from late August to mid-April.
As Lofoten is located relatively close to the Arctic Circle, it's not among the places with the longest Midnight Sun season. If you want to see the Midnight Sun in Lofoten, you should travel here sometime between 28 May and 14 July.
The exact dates vary slightly from place to place. Check this list to see when the sun does not set at selected Lofoten gems: https://visitlofoten.com/?p=867&preview=true
Air: You can fly with Norwegian or SAS to Bodø airport (BOO/ENBO) and then continue with Widerøe to Svolvær, Leknes or Røst. You can also fly to Evenes/Harstad airport (EVE) and hop on the Airport Express Bus to Svolvær (bus tickets here).
Sea: The coastal voyage Hurtigruten sails daily from Bodø to Stamsund and Svolvær at 15.00 (3pm). The express boat Nordlandsekspressen connects Bodø with Skrova and Svolvær.