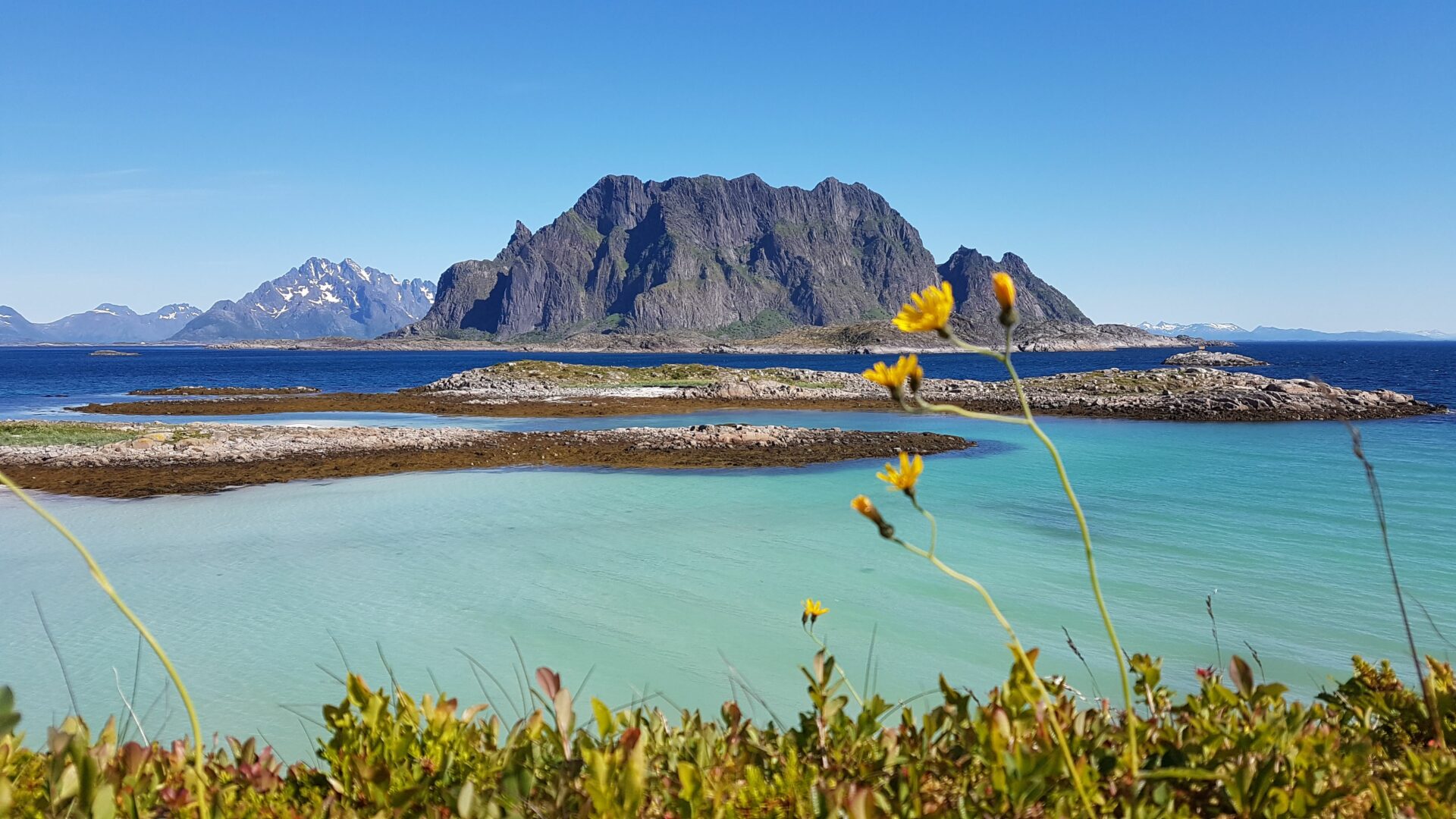 Skrova has hike trails and surroundings for activities both at sea, on land and in the mountains. And the fantastic beaches are ready for a morning swim all year round. 
Here you can see and experience a lot in a short time.  You can see the outdoor photo exhibition, or take a hike up the Skrova-mountain, which is an easy hike that most people can manage. From here, you can see the whole Lofoten wall, and Steigen and Hamarøy on the opposite side. You should go to the beaches on your way down from the mountain. Take a walk to the old coastal fortress that the Germans built during the war, where the canons are still lying around in the terrain. You can also find ruins from houses and war positions. You can enjoy local food in one of the restaurants, for instance the one called Fotobrygga.
Something for all seasons 
Summer at Skrova is how you dream it should be. Fishing from the pier or in a boat, kayaking around the Skrova-island, making a stop at the chalk white beaches and Skrova lighthouse. There are charming outdoor restaurants and the incredible luxury of leaving the car parked while you get around the island walking or on a bicycle. 
When the summer holiday guests have packed up and left the island, the fantastic autumn arrives with clear skies, beautiful colours and not least, the northern lights. The atmosphere calms down and it is time for activities and trips with your friends. Join a yoga retreat, a photography course, a "hula-hoop retreat", music and culture events, or just relax and enjoy the peace, the northern lights and the starry sky after a day in the mountains or in a kayak with Skrova Kayak Adventure. 
In November and December, you can enjoy the special magical light from the sun and a lot of northern lights. Skrova is decorated for Christmas, but there is no shopping pressure, and it has the world's smallest Christmas street and Christmas market. 
In February, the skrei (cod) fisheries start, and you can experience this fantastic adventure during winter and spring. The last weekend in March is when the world skrei fishing championship is organized in Svolvær: VM i Skreifiske. This tradition is also kept alive at Skrova and many people visit the island both for the party and for fisheries. 
Was this helpful?
Thank you for your feedback!
Thank you for your feedback!
We are reading all feedback, but unfortunately we can not respond.