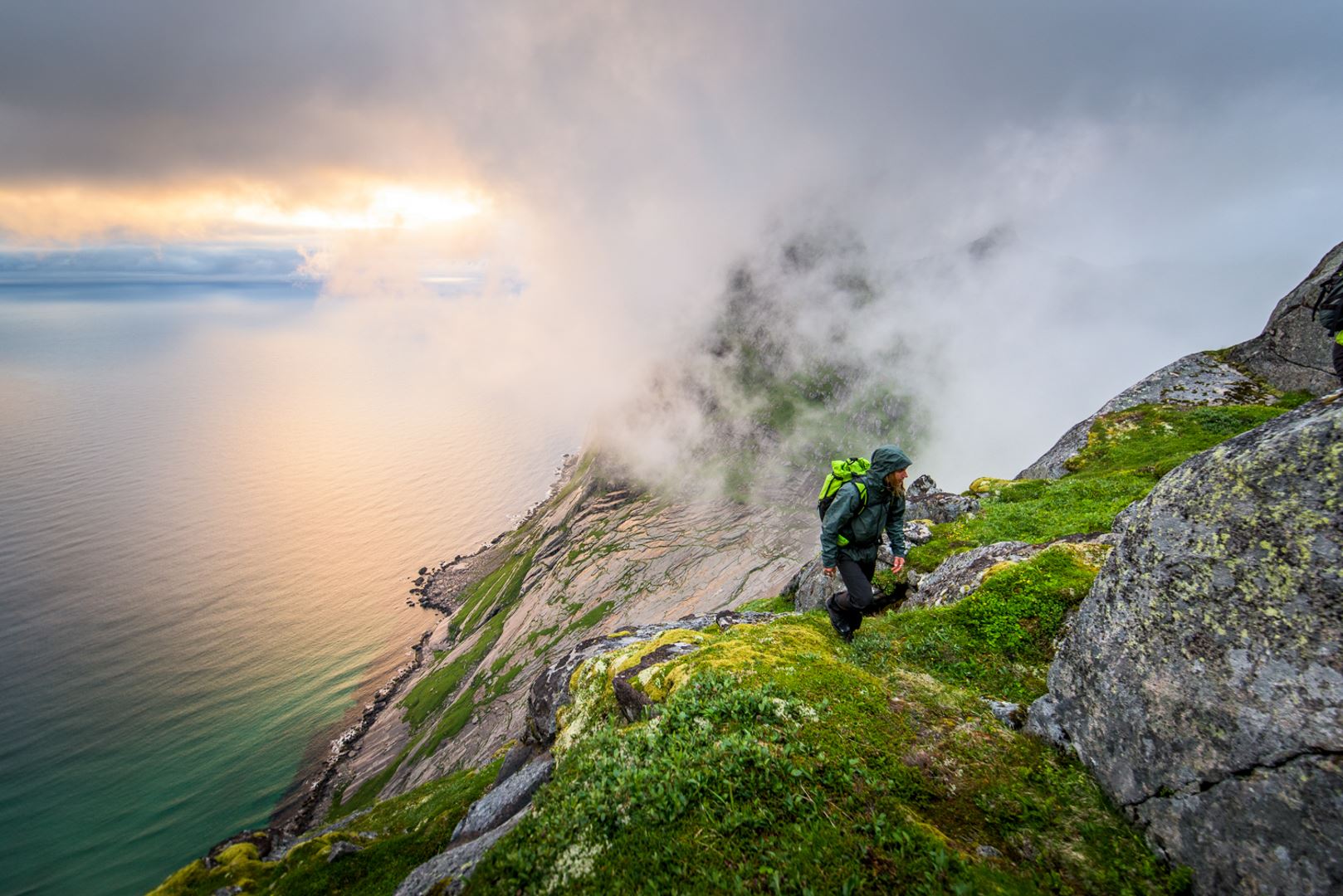 Do you dream of climbing on solid granite with good friction while admiring a beautiful archipelago bathing in emerald sea? The rock climbing in Lofoten is distinctive and inviting.
"It's the overall nature-based experience that makes climbing in Lofoten so wonderful," says Seth Hobby, the head guide and manager of Northern Alpine Guides. His company offers climbing courses and guided climbs in Lofoten and the surrounding area.
"Climbing directly above the sea is a very special experience. After just a short length of rope, you have a magnificent view that you won't experience elsewhere."
World-renowned climbing destination
Lofoten is a destination that is high on the list of many rock climbers. You will find climbing routes of the highest quality combined with spectacular nature, as well as a wealth of other options when it's time to rest tired climbing fingers. It's the incredible overall experience on offer here that creates lifelong memories. Imagine being able to climb perfect granite cracks with views of the Lofoten mountains and then jumping into the sea before enjoying a beer at a local bar while planning the following day's excursion.
Where are the best places to climb in Lofoten?
Although it's possible to do climbing throughout the archipelago, most climbing activity takes place on Austvågøy, which is one of the largest islands in the archipelago. The village of Henningsvær on this island is considered a "Mecca for climbers". There are numerous wonderful climbing cliffs along the narrow road that winds along the coast out to this beautiful fishing village with a population of 500. The highest cliff, which attracts experienced climbers from all over the world, is called Presten (The Priest). Other popular climbing areas include Pianokrakken, Gandalf Wall and Festvåg Wall. There are a wide range of climbing routes of varying levels of difficulty. You should not overlook the climbing route called Bare blåbær ("Only blueberries"), which is situated on the shores of the Djupfjord. This is a real classic, which is best enjoyed in the afternoon sun.
It's important to note that there are very few places to park along the road to Henningsvær. There is a large car park at Festvåg.
The beautiful climbing area at Kalle, which is aptly named Paradiset (Paradise), has several shorter routes. This area is often used for climbing courses. The Kalle outdoor recreation area is located between Henningsvær and Kabelvåg. You will find a car park and toilet facilities at the nice beach.
Svolværgeita ("The Goat") is perhaps the place most people associate with climbing in Lofoten. This spectacular rock pinnacle towers proudly over the capital of Lofoten, Svolvær. It was climbed for the first time more than a century ago – in 1910. Today, "The Goat" is on the bucket list of experienced climbers and adventurous hikers alike wanting an airy experience of a lifetime. Guided climbing tours up "The Goat" are offered daily during the peak season, and you don't need previous climbing experience to climb one of the routes. The hike up this iconic rocky mountain is steep. You should be in good physical form and not suffer from a fear of heights. The guides provide equipment, expert advice and attend to safety.
Ridge traverses
Climbing in Lofoten can be so much more than Svolværgeita, even for beginners. Seth Hobby from Northern Alpine Guides recommends signing up for the ridge traverse known as "Lofoteggen". This is a versatile ridge traverse that consists of a mix of hiking, scrambling and climbing in a spectacular alpine landscape. Ropes and climbing equipment are used during a unique day in Lofoten's magical mountain world.
"This is a wonderful trip offering views of Rulten and Higravtind, the tallest and toughest peaks in Lofoten," says Hobby.
This day trip is suitable for active people wishing to learn more about mountaineering.
Many options
Climbing offers considerable variation, from bouldering on rocks on the ground to conquering demanding, alpine peaks. However, the types of climbing that most people take part in are something in between, namely sports climbing or trad climbing. Lofoten has a few bolted routes but it's trad climbing, where you place your own protective devices in the rock, that has made Lofoten the world-famous climbing destination that it is today.
Facts about climbing:
Trad climbing: Traditional climbing, or trad climbing, is climbing on rock walls where you place protective devices such as nuts and cams in cracks in the rock. This is most common form of climbing in Lofoten.
Sports climbing: Climbing on rock walls where you use permanent bolts and anchors that have been drilled in the rock for protection.
Bouldering: Climbing on boulders or large rocks without harnesses or ropes. Instead, you have a crash pad, which you land on when you fall off or jump down.
Frequently Asked Questions about Climbing in Lofoten:
The peak season for climbing in Lofoten is the summer months (June to August). The climbing walls can be very crowded in July.
We recommend using a guide to ensure the safest and best climbing experiences. Alternatively, you can take part in a course to learn the craft. If you have adequate experience, knowledge and equipment, naturally you can go climbing on your own.
The climbing guidebook Lofoten Climbs is essential for anyone planning to climb Lofoten's steep granite walls. The book Bouldering in Lofoten shows you the best places for bouldering in the archipelago.
Helmet, harness, climbing shoes, ropes, belay devices, quickdraw slings, screwgate carabiners and protection such as nuts and cams, as well as a chalk bag.
Yes, Northern Alpine Guides offer family climbing in the Kalle outdoor recreation area. This activity enables the whole family to try climbing shoes and harnesses on real Lofoten granite.
Was this helpful?
Thank you for your feedback!
Thank you for your feedback!
We are reading all feedback, but unfortunately we can not respond.