Story of Engelskmannsbrygga
The Ceramic Artist
The Glass Artists
The Photographer
It all started in the early 1900s, when an English pharmaceutical company built "Engelskmannsbrygga" in Henningsvær for the production of medicinal cod liver oil.
This was during a period were the Lofoten fishery made up the bulk of revenue for most fishermen in northern Norway. And in Henningvær, it's recorded that around 1029 inhabitants lived scattered around the islands that made up the fishing village.
The production of cod-liver oil in Norway dates back to the 1850s. Back then, they would hang the cod (Skrei) to dry and some times salt it to make klipfish, The roe was salted in large German wine vats made from oak, and the cod-liver was steamed or boiled into cod-liver oil. In the beginning, the oil was only skimmed off while the liver was left to ferment in the summer heat. Can you image the smell? In fact, they used to call the smell "the smell of money", and rightly so, as cod-liver and stock fish was Norway's most valuable commodity. The oil was used to fuel lamps all over Europe, and used in the manufacture of soap, paint and lots more.
As they got better at producing oil, they also improved the yield for each drop of cod-liver oil. They started to use large iron cauldrons to extract more oil, all year round. And in 1854, pharmacist Peter Møller, improved the steam-boil method to extract better quality oil. With high quality oil, people who drank it got what they needed in terms of vitamin A and D, and where seemingly never ill.
Most of the inhabitants in Henningsvær lived in Fishermans Cabins, and where involved in fishing and related industries. Spread around on the islands you would have seen several warehouses and fish factories, and plenty of fishing boats.
Today, well over a hundred years later, there is not a single drop of fish oil left. Instead, skilled craftswomen ensure that the traditional pier is filled with modern, Norwegian design.
*Photo Credits
Image 3: Kristin Folsland Olsen
All other images: Aurora Stenersen
From 1997 till today
In 1997, the workshop community was established by ceramist Cecilie Haaland, photographer John Stenersen and glassartist Kari Malmberg. Later, in 2014, the glassartists Heidi Kristiansen and Mette Paalgard founded Kristiansen & Paalgard in the already established glass-studio.
The artisans have noticed an increasing interest in authenticity. More and more guests are appreciating local craftsmanship, exciting design, and the welcoming open workshop environment. A travel memory from here is much more than just a souvenir.
The gallery offers a wide selection of handicrafts where traditional craft is preserved through modern design.
Engelskmannsbrygga is located in the middle of the square in Henningsvær. It is a short distance from cozy cafes, accommodation, the art gallery Kaviarfabrikken, and the cultural center Trevarefabrikken.
The Ceramic Artist
Cecilie Haaland
Cecilie Haaland is a full-time craftswoman with a wide repertoire, from utility objects with clean lines in a simple and modern design language to conceptual decorations. She mainly works in porcelain and photography, and preferably a combination of both. The first of her ongoing project "Phottery" hangs at the National Museum.
Cecilie Haaland has lived in Lofoten since 1995, is a trained craftsman and potter through an apprenticeship for many years and has run her own workshop since 1991. She owns and runs the Engelskmannsbrygga gallery and workshop community in Henningsvær.
Haaland has participated in a number of exhibitions, both at home and abroad. She has received several scholarships, such as The government's 3-year work grant, and has held several positions of trust on the board of Norske Kunsthåndverkere Nord Norge, was chairman of the board of Nord Norsk Kunstnersenter and currently sits on the board of Nord Norsk Art Museum. In addition, she is the project owner of the business network Lofoten Art Galleries.
Engelskmannsbrygga is Cecilie Haaland's heart child – a living arts and crafts center located on the square in Henningsvær in Lofoten. Haaland has been the owner and active craftsman at Engelskmannsbrygga since 1997.
The Glass ARTIST
Heidi Kristiansen
Heidi is co-founder and owner of the glass studio Kristiansen & Paalgard in Engelskmannsbrygga with Mette Paalgard.
Quote: "Through a rigorous transformation with references, Heidi Kristiansen refers to the history of sculpture in a material that is difficult to master."
Heidi started her craft as a Glass Blowing Artist at "Glas skolan i Kosta", in Sweden, in 2003 – 2006. Then continued at the Royal Danish Academy of Fine Arts, School of Design, Bornholm, Denmark from 2006 – 2009.
Heidi's art has been showcased at various such as "Glasstilstander / States of Glass", NNKS, Svolvær, Norway in 2021, Pop up exhibition with Reddymade, BAR'n, Kjetil Berge, Kvalnes, Norway 2021, and "Nord og never", member exhibition NKNN, Galleri Nord Norge, Norway in 2020. And plenty of others in Norway, Sweden and Denmark.
Her collection "Bubbleicious" was acquired for KODE, Vestlandske kunstindustrimuseum, Norway.
Prize: 2009, 2nd place Juvenarte, Norway.
Member of 2009 The Norwegian Association for Arts and Crafts (Norske kunsthåndverkere), Norway.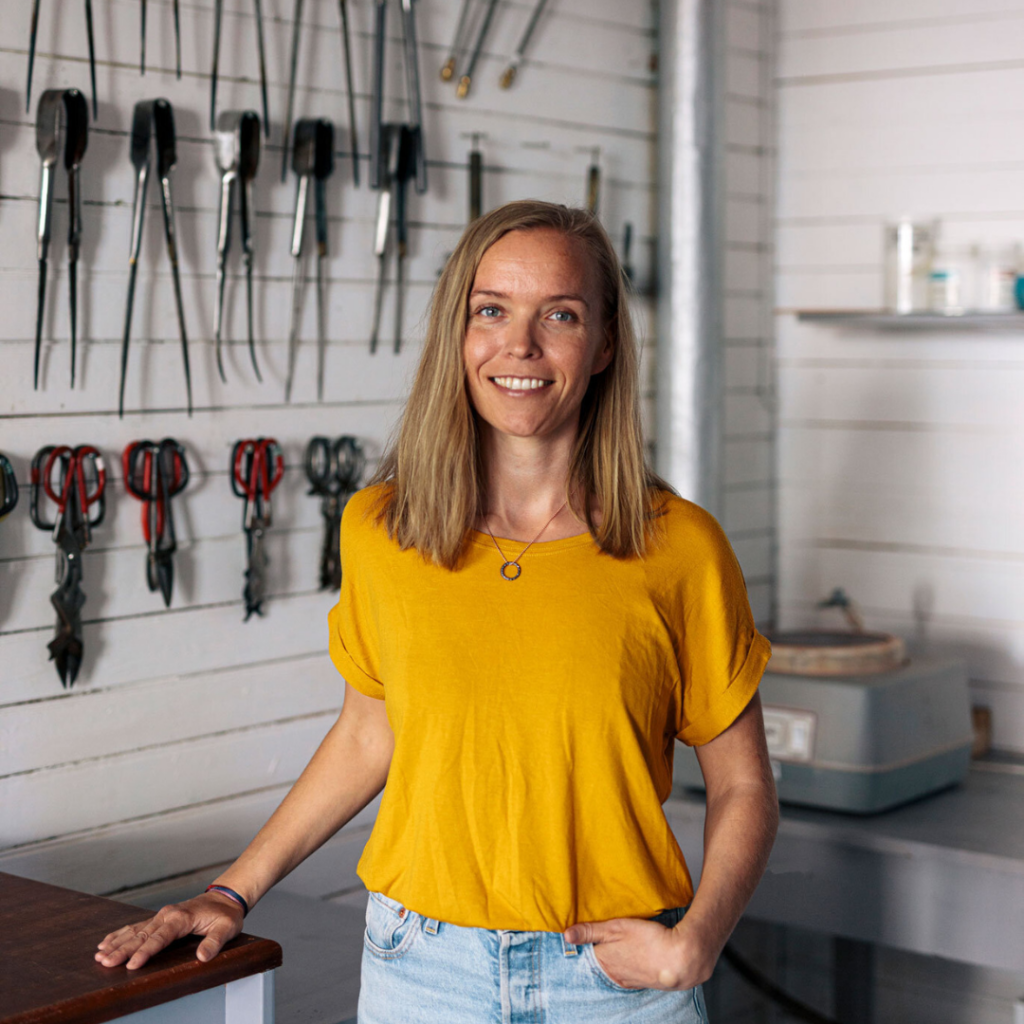 The Glass ARTIST
Mette Paalgard
Mette is co-founder and owner of the glass studio Kristiansen & Paalgard at Engelskmannsbrygga with Heidi Kristiansen.
She started working with glass at Kosta glass school in Sweden in 2004- 2007. Then continued to The Royal Danish Academy of Fine Arts, School of Design, Bornholm, Denmark from 2007-2010. Paalgard's work is both functional objects as well as unique art pieces. She is working with the old craft, and traditional techniques, in a modern and new way. Her design is clean and minimalistic – where she allows the material-specific properties of the glass to be expressed.
Mette Paalgard has participated in a number of exhibitions, and has received several grants, such as a 3-year working grant from the Norwegian Council of Culture.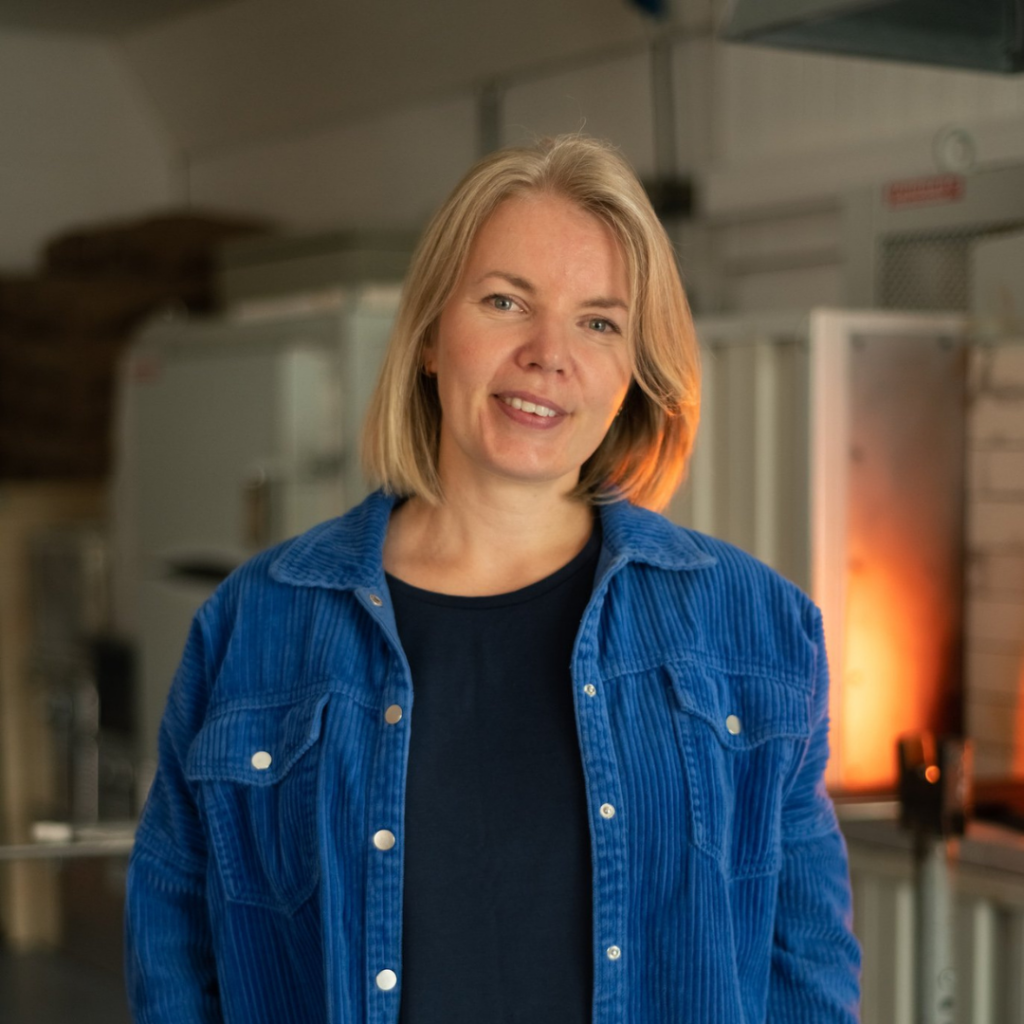 The photographer
John Stenersen
John Stenersen, residing in the Lofoten Islands, is a multi-talented individual who excels in photography, writing, teaching, and serving as a nature guide. Originally starting his career as a photojournalist in Oslo, he shifted his focus to nature and wildlife photography after relocating to Lofoten in 1995. His remarkable work has resulted in the creation of books, postcards, and artwork that showcase the beauty of Northern Norway.
Since 2002, John Stenersen has been sharing his knowledge and expertise by teaching photography at Lofoten folkehøgskole. With his deep passion for ornithology and ecology, he is also highly sought-after as a captivating lecturer and a reliable nature guide.
The various endeavors of John Stenersen are unified under the name "Tringa AS", the company he established in 1997.
Visit US
OR BUY OUR
PRODUCTS online