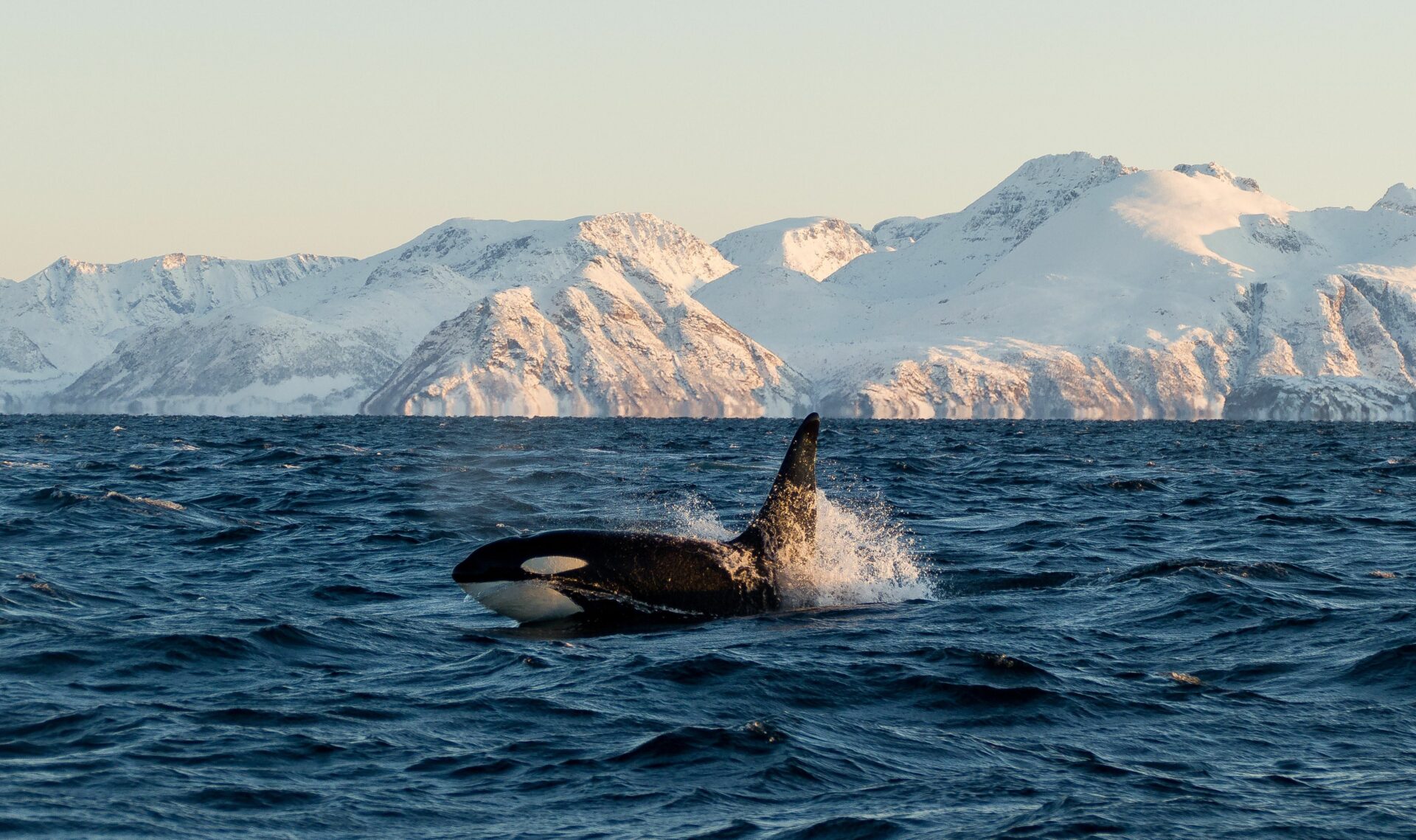 Is it possible to go on whale watching safaris in Lofoten?
Lofoten has a rich wildlife (link til dyrelivartikkel) and is renowned for its unique and abundant life both under and over the surface. But when it comes to experiencing whales on a sea safari in Lofoten, it's simply a matter of coincidence. No activity providers in Lofoten offer whale watching safaris or can guarantee you will see this marine mammal. If you are lucky enough to spot whales, it's an experience you remember for the rest of your life. However, only coincidence will determine whether this happens while you are on a sea safari in Lofoten. If you want a guarantee of experiencing the mighty marine mammal, you can travel to beautiful Andenes in Vesterålen.
Where you get a 100% whale guarantee
Andenes in Vesterålen is the place in Northern Europe with the highest probability of experiencing whales. Consequently, they can offer whale watching safaris with a 100% whale guarantee. If they don't spot whales, you will be offered a new trip or a full refund. These safari trips normally last two to four hours, but the duration varies depending on where the whales are. You will get a guided tour by an experienced crew.
Whale safari from Andenes
Click here to read more about whale watching safaris in Andenes:
Whales in Lofoten – the magical coincidences
One of the many charming features of Lofoten is the versatility of the archipelago. You will discover endless activities to suit every occasion, level of experience and requirement. Many of these activities take place in the sea – everything from fishing from the shore to fishing trips to boat and sea safaris in Henningsvær to cruises in the Trollfjord. These activities and many more are magical experiences. If you are extra lucky, you may encounter whales breaching the surface as a bonus.
Whale watching in the area around Tromsø and Skjervøy
Click here to read an overview of all organised trips and experiences where there is a chance to encounter whales. It's important to remember that there are no guarantees.
Frequently Asked Questions about Whales in Lofoten:
There is no guarantee of seeing whales in Lofoten. You need to travel to Andenes, which is about 211 km from Svolvær. However, you may be lucky enough to spot whales when you are out at sea in the Lofoten islands. Here is an overview of sea safaris and fishing trips in Lofoten.
It's very difficult to say. If you want a 100% whale guarantee, it's best to head to Andenes. In Lofoten, it's a matter of chance and coincidence.
Air: You can fly on Norwegian or SAS to Bodø and then continue on Widerøe to Svolvær, Leknes or Røst.
Sea: The coastal voyage Hurtigruten sails daily from Bodø to Stamsund and Svolvær at 15.00 (3pm). The express boat Nordlandsekspressen connects Bodø with Skrova and Svolvær.
Bus: There is a bus service from Narvik via Evenes (Harstad/Narvik Airport) to Svolvær and local routes from here to other destinations in the archipelago.
Was this helpful?
Thank you for your feedback!
Thank you for your feedback!
We are reading all feedback, but unfortunately we can not respond.