Family car holiday in Lofoten
Welcome to a journey through Lofoten! This travel route is a great starting point for a family holiday. This is the perfect place to create fabulous holiday memories.
This travel route starts from Bodø with the ferry over to Moskenes and then it goes back through Lofast, which is Lofoten's connection to the mainland. From Svolvær you can drive to Vesterålen, Narvik, Harstad or Tromsø, or you can take the ferry from Lødingen to Bognes and then drive E6 southbound. You can also do this route the other way around or drive back the way you came from and take the ferry back to Bodø. It's all about how much time you want to spend and what you would like to experience. There are plenty of reasons for spending more than 3 nights in Lofoten. We recommend you take it easy so you can find peace and quiet in Lofoten, but if you do not have much time, this is a great starting point for a magical family car holiday in Lofoten. And remember; you can always come back. Have a great journey!
Do you need more information before planning your trip to Lofoten?
Lofoten has always been an important part of the Norwegian history. The Lofoten islands are known for its fish and its beautiful, unspoiled nature. This is reflected in the fantastic food and drink you can enjoy in the region. 
At Visit Lofoten you find a lot of information about what to do and experience in Lofoten and where to find children and family friendly accommodation. You also find an interactive map here, which is a great help to find exactly what you are looking for!
We have suggested a travel route to inspire you on your holiday, but please feel free to make any changes you like!
Traveling route
Lofoten Beach Camp, Flakstad
Day 1: Bodø to Flakstad
Bodø, Norway – Lofoten Beach Camp, Flakstad, Norway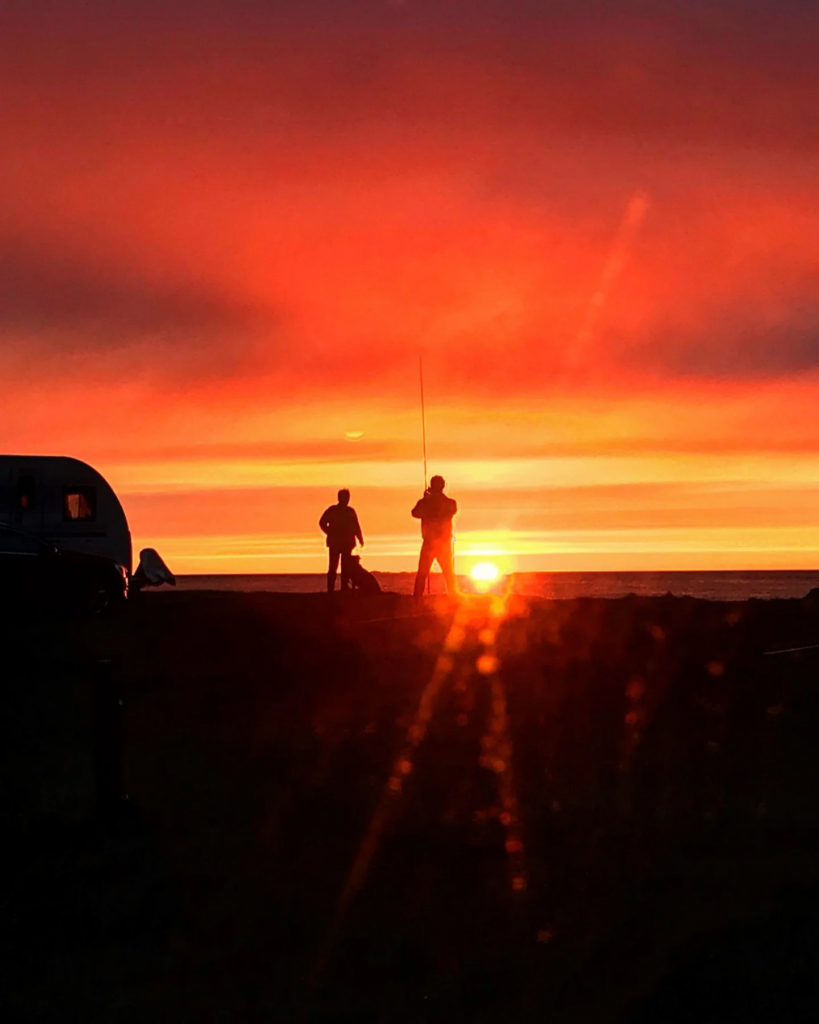 If you arrive by plane in Bodø and rent a car there, or if this is part of a longer journey, you can of course pick any part of the route and change it!
Start by taking the ferry from Bodø to Moskenes. You find travel information and time tables here.
When you arrive in Lofoten and Moskenes, you are in the middle of the iconic Lofoten nature. From here you drive direction Å, which is 10 minutes further out in Lofoten at the end of the E 10. When arriving in Å, park the car and visit the Norwegian Fishing Village Museum. This is where the whole family will get a flying start to the Lofoten experience and maybe you take a picture on the pier with the head of a dried monkfish.
On the way to Flakstad and Lofoten Beach Camp, you will pass many beautiful places with a lot to offer. If it is a beach day and the kids are ready, drive straight to Lofoten Beach Camp and enjoy the coral sand. 
If you or the weather are not ready for a day on the beach, there are plenty of other possibilities.
Day 2: From Lofoten Beach Camp to Hov Gård
Lofoten Beach Camp, Flakstad, Norway – Lofoten Links, 389 Tore Hjortsvei, Norway
After a morning near the roaring sea, you set the course towards Hov Horse Farm. On the way there, you will pass Leknes, a perfect place to get some shopping done and buy the things you need on your trip. Your first stop on the way to Hov is the Lofotr Viking Museum at Borg. This is a place where the whole family can learn about history not only in the exhibitions, but also in an impressive reconstruction of the biggest house discovered from the Viking Age. You can also take part in a many outdoor activities.

If you would like yet another experience after you have visited Lofotr, you can visit Aalan Farm.  This is an experience for the children and for your taste buds. From Lofotr you drive 10 minutes to get to Aaland Farm. Follow E10 eastbound and take the exit to the tight towards Pollveien.
If you would like more sporty activities in the area, you find information about snorkeling, Surfing and Kayaking for beginners and families with older children.
From Aalan Farm, drive back onto E10 and follow the road eastbound until the exit to road (Fylkesvei) 861 to go to Hov at Gimsøy.
A good place to stay overnight in the area  is Lofoten Links Lodges. Here you can enjoy some of the activities offered at Hov Horse Farm, such as riding under the midnight sun or playing at the gorgeous beach near Låven Restaurant – perfect for a late dinner.
Day 3: From Lofoten Links to Svolvær and Svinøya Rorbuer
Lofoten Links, Gimsøya Norway – Svinøya Rorbuer Svolvær, Norway
After a good breakfast, your journey continues from Lofoten Links, if this is where you have chosen to stay.
Now head for the place where the very first rorbu was built by King Øystein in the 1100s in Kabelvåg. Here you can visit the Lofoten Aquarium and experience the feeding of the seals and study life in the sea around Lofoten. Within a radius of a few hundred metres, you find the Lofoten Aquarium, Lofoten Museum, Gallery Espolin and Nyvågar Rorbu Hotel.
Further east you come to the capital of Lofoten, Svolvær.
In this area you have a good selection of restaurants, bars and activities.  Svolvær is where you should explore a real rorbu, if you have not already had a chance to do it. A good alternative is Svinøya Rorbuer, but you can also find other accommodation in Svolvær here.
With Svolvær as your base, there is a wide range of activities and trips to choose from. Here is an overview of all the different possibilities!
Day 4: Svinøya Rorbuer
Svolvær – Lofast
A great experience after breakfast could be an eagle safari in the Trollfjord.
There are plenty of reasons to spend more than 3 nights in Lofoten. We recommend that you take time to find peace and quiet in Lofoten, but if you do not have more time, this is a great route to follow.
Was this helpful?
Thank you for your feedback!
Thank you for your feedback!
We are reading all feedback, but unfortunately we can not respond.