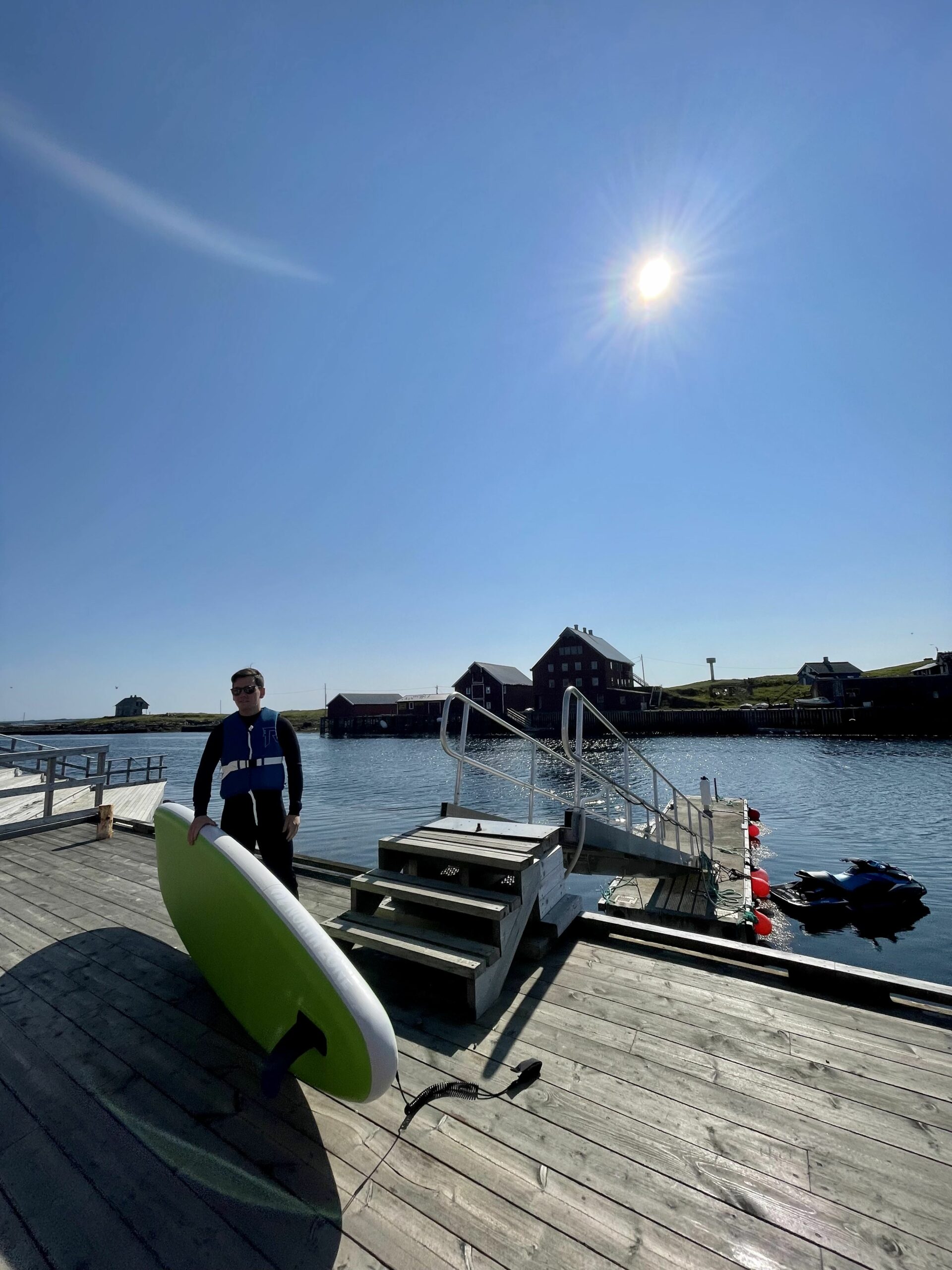 Experience Lofoten from a SUP
Stand-Up Paddleboarding (SUP) has become extremely popular in recent years. Most people find SUP easy to master. It's a fun and challenging activity for the whole family. It can also be adapted to put your skills to the test and is a perfect activity for a group of friends, with your partner or to find peace alone. Lofoten is known for its maritime world as a trademark. SUP offers you unique closeness to the Arctic environment and enables you to experience the nature both above and below the surface. With several places in Lofoten that offer rentals, courses and guided tours, all you need to bring to try SUP in Lofoten is a good mood. You can enjoy SUP all year round, either while paddling under snow-capped mountains in the winter or in the golden rays of the Midnight Sun in the summer.
You will find information here about the best SUP experiences and where to rent SUP gear in Lofoten:
A new way to experience the outer coast of Lofoten
The outer coast of Lofoten offers excellent conditions for surfing and standing on SUP boards. You will find some of the world's nicest beaches here with crystal clear water that is reminiscent of the Caribbean. The iconic Lofoten mountains stretch from the water's edge right up to the clouds. You will find local guides in several places who can take you and your friends or family on an Arctic safari and teach you tips and tricks on the SUP board.
Book a guided SUP tour at Arctic surf at Unstad or Lofoten Beach Camp a Flakstad
Frequently Asked Questions about SUP in Lofoten:
SUP is an abbreviation for Stand-Up Paddleboard. You can use the board for surfing in waves but many use it on calmer water. The board has greater length, volume and width than a regular surfboard. You use a paddle to propel the board and its user across the surface of the water. Read more on Wikipedia: Standup paddleboarding – Wikipedia
You can do SUP in Lofoten year-round. If you have not tried before, we recommend going an organised tour with a local guide who will show you the techniques.
It depends on how experienced you are. We recommend using a local guide to learn about the local conditions and techniques.
Air: You can fly with Norwegian or SAS to Bodø airport (BOO/ENBO) and then continue with Widerøe to Svolvær, Leknes or Røst. You can also fly to Evenes/Harstad airport (EVE) and hop on the Airport Express Bus to Svolvær (bus tickets here).
Sea: The coastal voyage Hurtigruten sails daily from Bodø to Stamsund and Svolvær at 15.00 (3pm). The express boat Nordlandsekspressen connects Bodø with Skrova and Svolvær.
You will find SUP rental here:
Was this helpful?
Thank you for your feedback!
Thank you for your feedback!
We are reading all feedback, but unfortunately we can not respond.