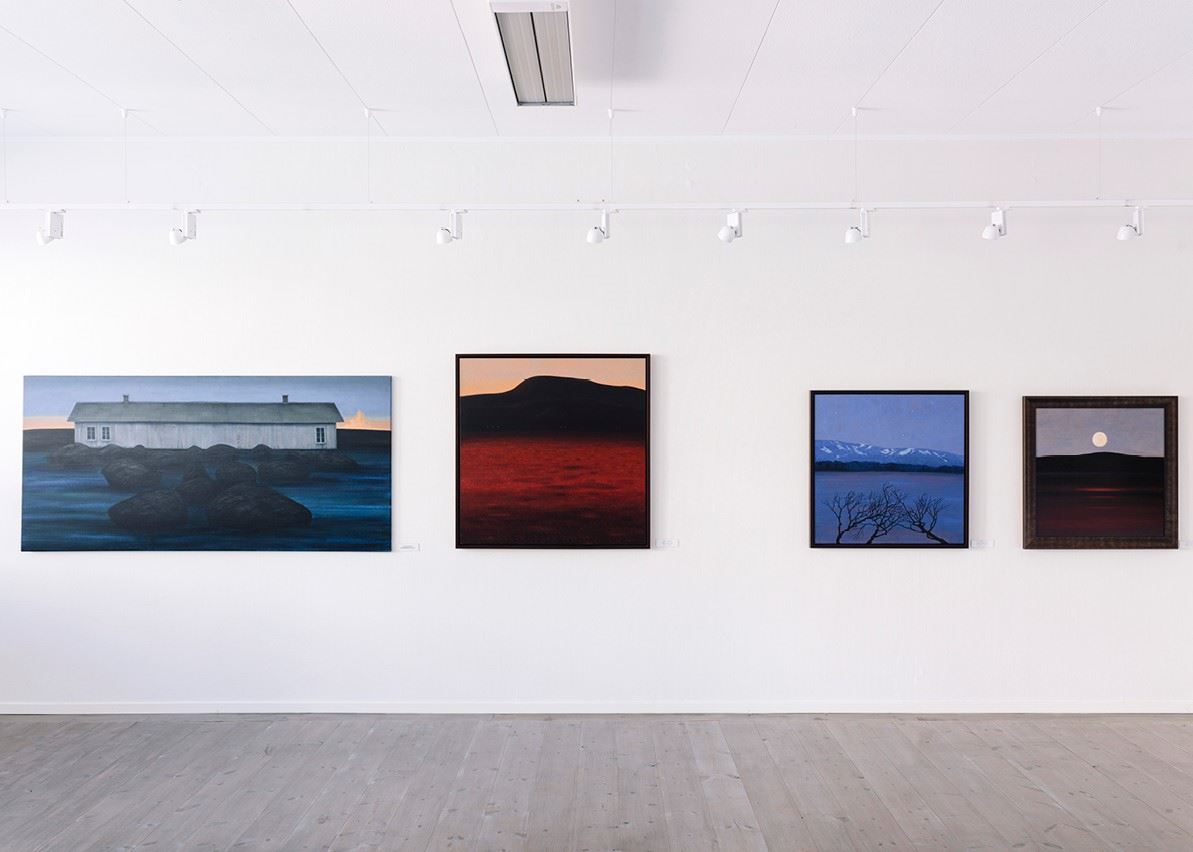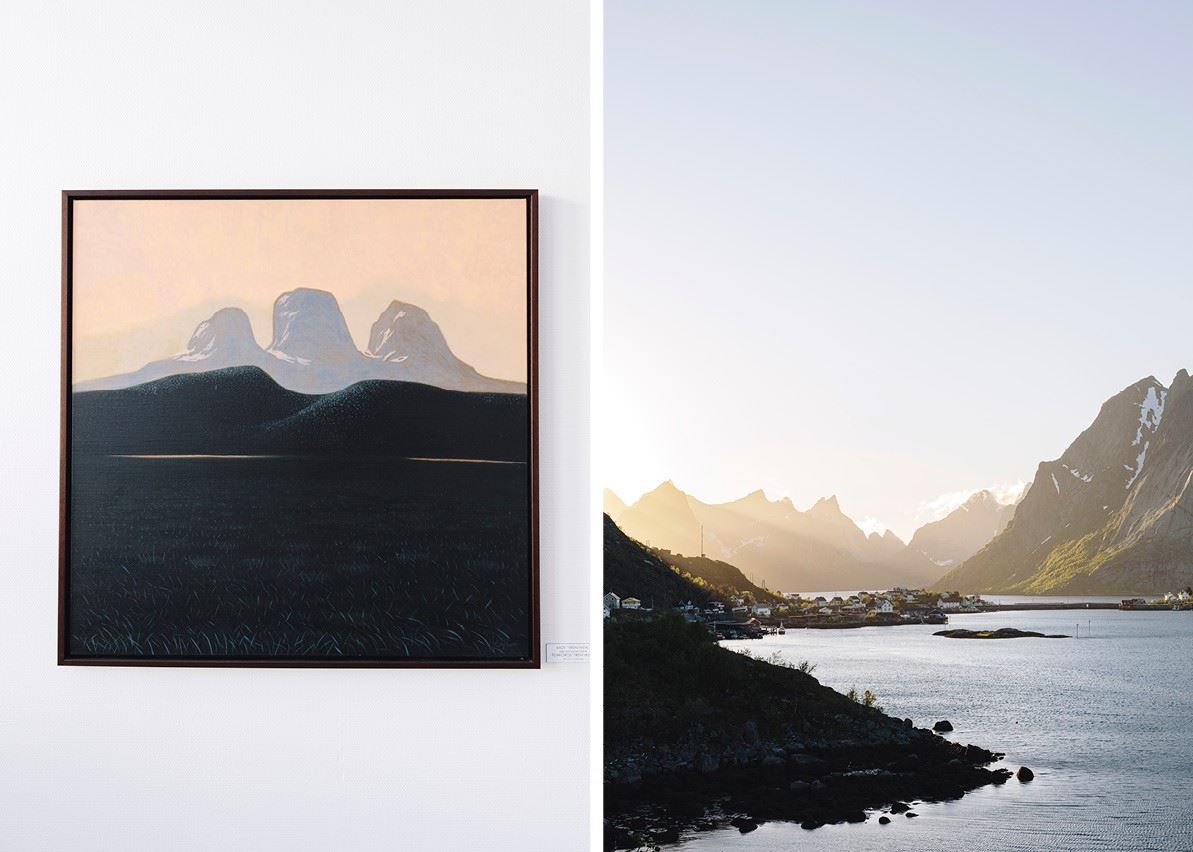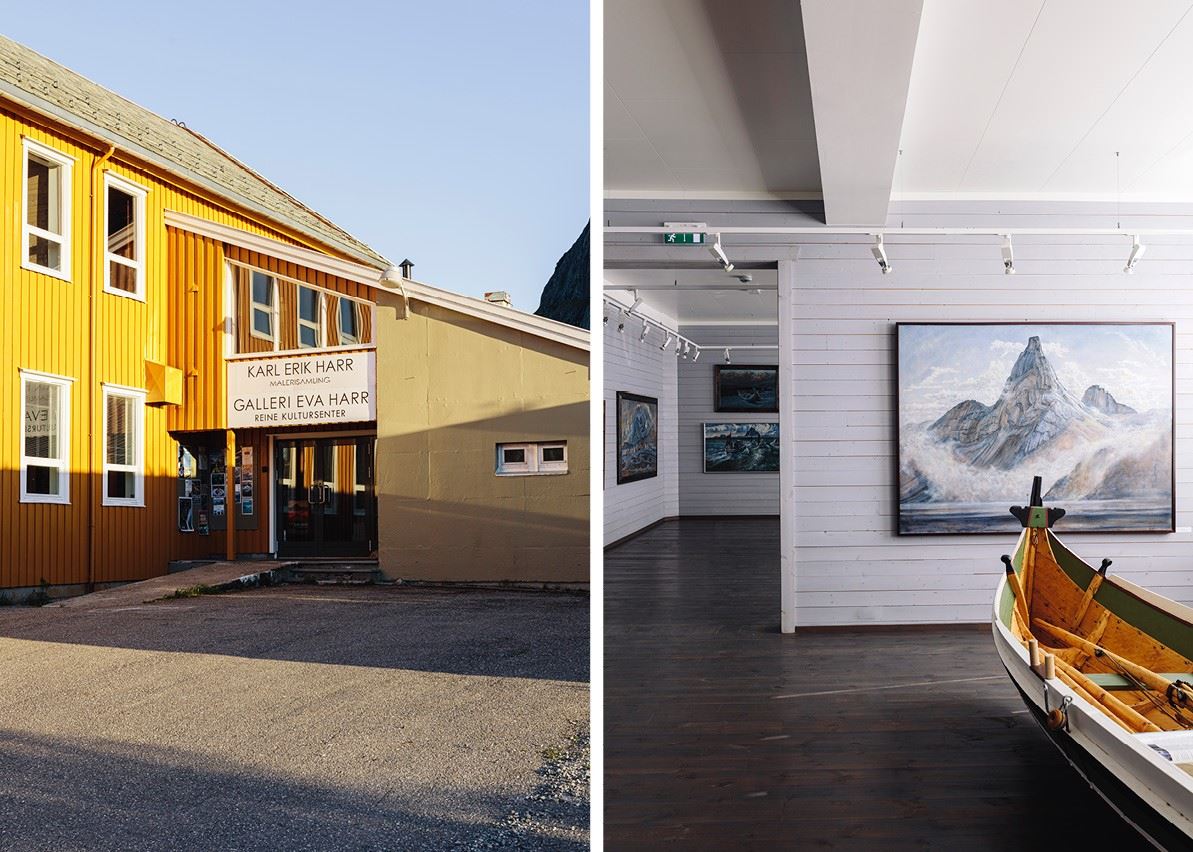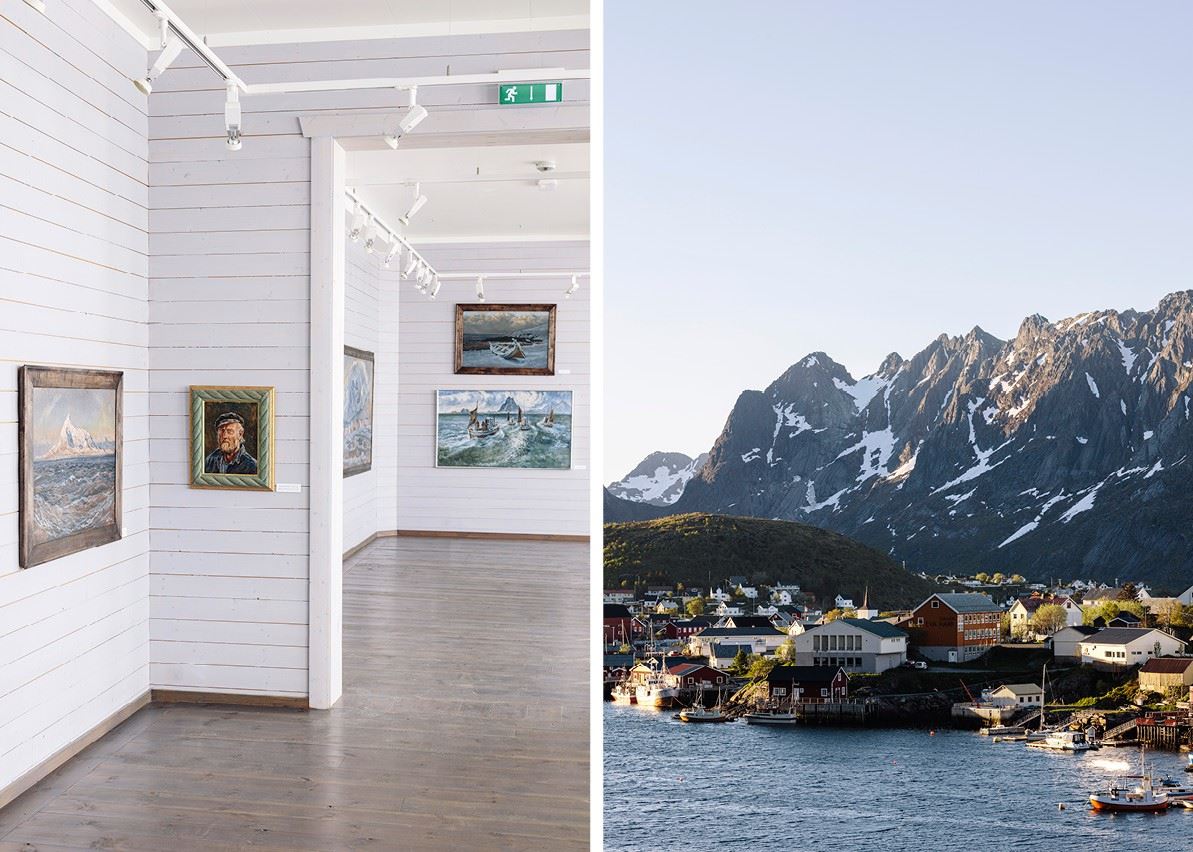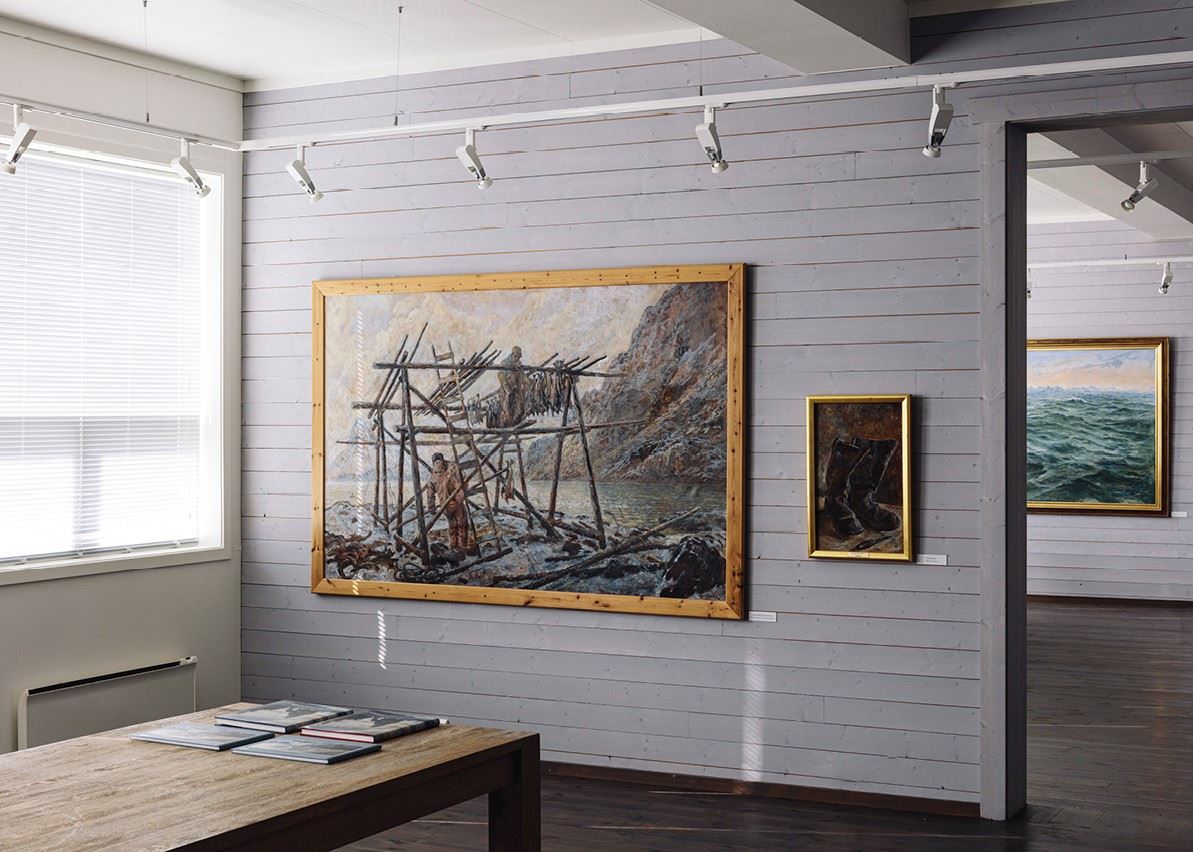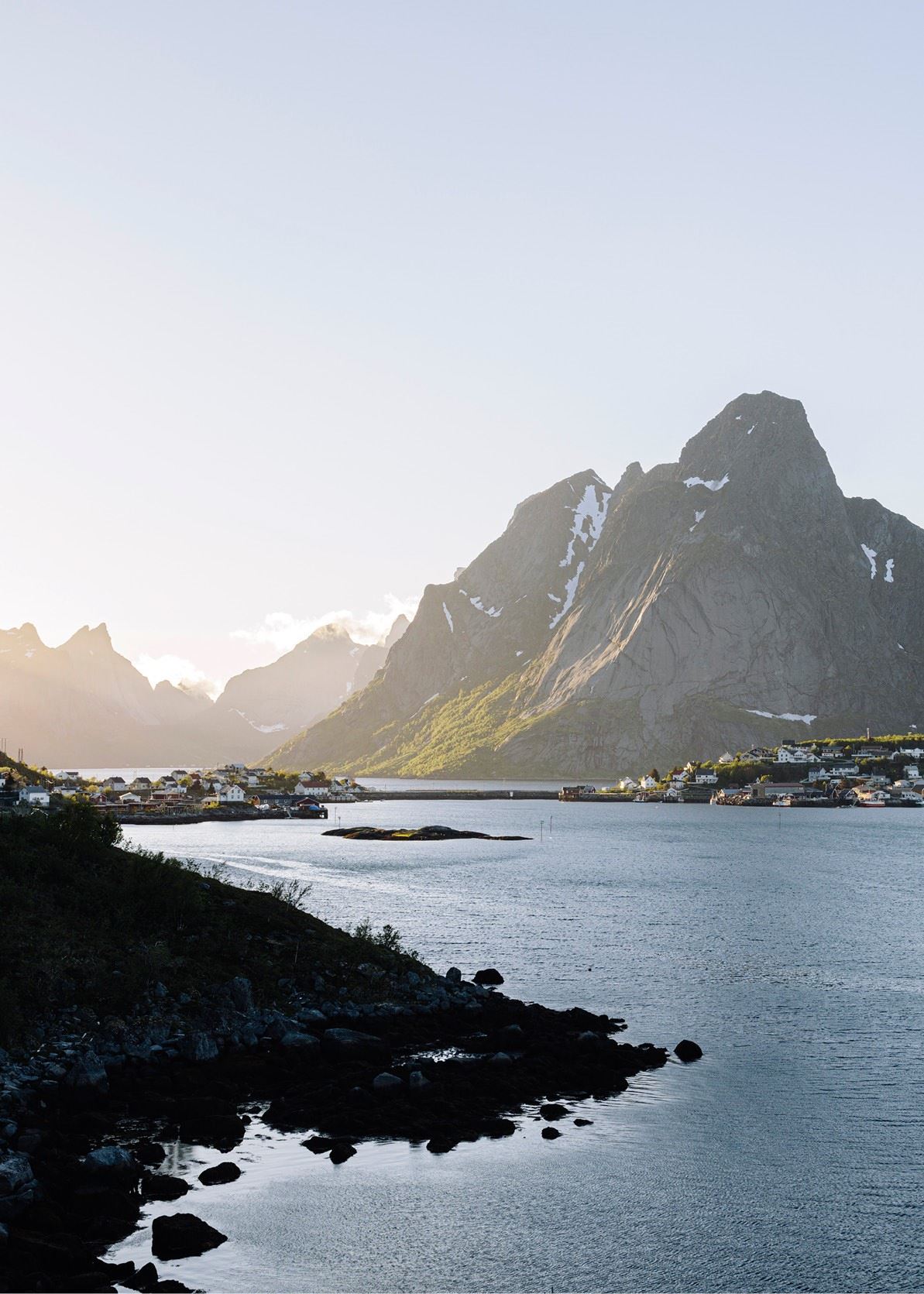 Eva Harr made her debut as an artist when she was 28 years old. Throughout her 40-year career, she has gained a solid reputation as a painter and graphic artist. Harr is originally from Harstad, and now lives in Oslo. She has had numerous exhibitions at home and abroad, and has been purchased by the National Gallery, among others.
In 2007, Gallery Eva Harr opened in the Reine Cultural Centre. The gallery displays a permanent collection of paintings from her artistic career and a selection of her graphic works.
According to Eva Harr, her art is informed by inner landscapes and by looking for the landscape behind the landscape. She is inspired by the scenery of Northern Norway, the different moods of the day, the light and dark, the dusk and dawn – and the powerful symbolism of the impact the moon has on our lives. Old houses, Tromsø palms, mountains and various celestial bodies are among the motifs that recur in her pictures.
The cultural centre is located in the premises of what used to be the school at Reine. While the exterior of the building looks just as it did when it was erected, the interior has been modernised and almost completely transformed by architect Ole Tørklep. Eva Harr has a studio on the second floor of the building and works from there for much of the summer.
In addition to Gallery Eva Harr, the Reine Cultural Centre contains an exhibition of Karl Erik Harr's paintings. In the summer of 2020, there will also be a photographic play by photographer Trym Ivar Bergsmo, with music by Runa Bergsmo.
Did you know…
… Eva has adorned the Hurtigruten ship MS "Richard With"?
Gallery Eva Harr is located within the Reine Cultural Centre in the scenic fishing village of Reine. From here you may set off on some of the most beautiful mountain walks in Lofoten. Reinebringen, for example, is known for its breathtaking views of the Reinefjord and the picturesque Lofot Wall. Don't forget to wear good shoes for this trip!
Once back down, you can enjoy a delicious hot drink at the Bringen coffee shop. They will be happy to recommend something indulgent to sink your teeth into for an after-adventure treat.
Round up the day with a paddling trip in the gorgeous evening light.
Was this helpful?
Thank you for your feedback!
Thank you for your feedback!
We are reading all feedback, but unfortunately we can not respond.